Gearing for the challenges ahead - For the Australian car industry to survive it must change its business model
31-08-2010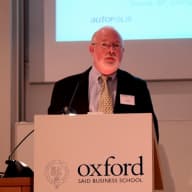 By John Wormald, Managing Partner of Autopolis, (www.autopolis.com) a strategy consultancy specialising in the automotive industry.
He has worked in most sectors of the industry and on government policies for the industry, and in most regions of the world, including Australia.
This article is published courtesy of the Society of Automotive Engineers - Australasia Autoengineer Journal (www.sae-a.com.au)
In 2004, we published a book called Time for a Model Change – Re-engineering the Global Automotive Industry.
Then we suggested the industry's business model was not sustainable. The same can be said of Australia's automotive industry today.
Figure 1 shows Australia's production volumes (blue columns, left hand axis) from 1999 to 2012 and its share of world vehicle production (red line, right hand axis).
From 1999 to 2003, Australian production increased by over a third and its share of global production increased by almost a third. This generated a good deal of optimism and a determination to support the national industry by means of a considerable injection of public funds, through the Automotive Competitiveness Investment Scheme (ACIS) and then Automotive Transition Scheme (ATS), even as import tariffs were taken down to negligible levels.
These schemes have clearly failed. There has been no real strategy, as there has been no clearly defined viable end state to which to transition the industry. Production in 2012 was down was almost 50% from the peak and share of world production fell by well over half.
Mitsubishi abandoned production in Australia and Ford is now to follow. What went wrong? What are the options now?
The high Australian dollar exchange rate and high labour costs have not helped, although the impact of the former has been mitigated to some degree by importing more components. Australia is not a low cost country, but its automotive labour costs are no higher than Germany's.
The problem in Australia is not lack of government support. Per car produced, the Australian industry gets reasonable public money compared to others operating in an open market.
The problem is lack of scale and ill-defined strategy. Figure 2 shows frontier curves between profit and loss.
The higher the locally produced volume, the higher local content can be. Thanks to higher price realisation and gross margins, the curve for speciality vehicles lies below that for volume vehicles. (see Figure 2)
There are in fact two automotive industry business models in Australia.
Toyota Motor Corporation Australia builds a global product on a global platform. The development and updating/replacement costs are amortised over global volumes, with only limited engineering capability required within Australia.
The Altona plant competes with other plants in the worldwide Toyota production network and this will continue for as long as Toyota needs its capacity and it is competitive. About two thirds of production is exported.
Local content appears to have been reduced in recent times to cut cost.
The Toyota model doesn't require or justify a full local engineering capability. However, Toyota has based one of its global Technical Centres in Melbourne.
On the other hand, GM-Holden builds the Commodore on an Australian developed and maintained platform. Commodore is produced at speciality vehicle volumes, but tries to sell at volume vehicle prices, leaving Holden's manufacturing operations firmly exposed to the loss zone. Reduced local content won't get it out
of trouble.
It's not clear what GM gains by having Holden assemble the Cruze at a low local content, compared to simply importing it, except as a prop to its loss making
local manufacturing operations.
GM Holden also operates a major design facility in Melbourne.
Ford Motor Company of Australia does the samewith the Falcon and Territory. Ford evidently could not justify developing a new Australian product.
Nor did local assembly of a global one – switching to the Toyota business model - look financially plausible at very low volumes. Ford has said it will continue its Melbourne based design operations.
As the Australian market has become more sophisticated and with increased purchasing power, the traditional Australian designed cars have simply lost their local brand prestige and market following.
The sales of Australian designed product in export markets has been too small to compensate for the lost domestic volumes.
The drop in local content severely hurts the Australian supplier sector and makes its own cost position worse.
Unless massive government subsidy is continued, Australia is on course to lose the whole sector with its employment and technical capabilities.
Wishing volumes up is an illusion. Trying to defend the status quo simply has not worked.
This leaves one last possibility. Try to recreate a distinctive Australian platform and family of vehicles built on it, with a strong innovation and technology content, plus a solid local brand image and following, plus sufficient export potential, which can justify premium pricing and thus survive at modest volumes.
There is an example of such a revival – Jaguar Land Rover. Jaguar is a true up-line specialist, with a distinctive positioning and image within passenger cars, building some 75,000 per year.
Land Rover occupies much the same position within SUVs, building 300,000 per year. Also speciality vehicles are not limited to passenger cars, as Land Rover shows. Australia should be looking at all non-volume vehicle sectors.
Volvo Cars is another possible example. Volume manufacturers have almost universally had a miserable track record in trying to enter the premium speciality sector. Ford let go of these two brands to new Asian owners. Should Holden have a new owner?
There are no easy or simple answers.
What must happen now is a dispassionate and independent review of the history, current position, apparent prospects and options for the Australian automotive industry in its global context.
The industry needs to clearly define what its defensible future position might be, without indefinite subsidy, and a plausible trajectory for reaching set targets, including possible overseas partners.
This review must cover both the vehicle and component sectors.