GE'S NEW MOTOR PACKS POWER INTO A TINY CASE
04-08-2015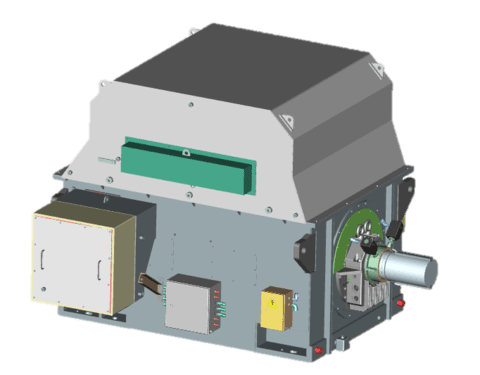 GE Power Conversion has launched the N37, an induction motor that makes an upgrade to the well-established N3 motor line, sporting one of the highest power densities in its class.  
When it comes to technology, there seems to be no denying that smaller is better. GE has brought over one hundred years of experience in developing induction motor technology to the fore, building on a time-proven design with cutting-edge mechanics in order to meet heightened customer demands on footprint and performance.
Working to decrease the component weight, GE Power Conversion achieved an induction motor design with a dramatically increased power per kilogram ratio. At a lower frame size than conventional induction motors, this compact design translates to space savings and lower weight, essential both in onshore and offshore applications.
The N37 squirrel-cage induction motors operate at 50 Hz and will soon be available in 60Hz. The N37 is among the most efficient motors in its class. GE's solution works to reduce energy waste while simultaneously reducing the operator's environmental footprint.
"We're constantly facing tougher demands in the power conversion industries – customers want products that are simplified, streamlined and compact but nevertheless meet increasing performance expectations," said Luc de Camas, Product Leader, GE Power Conversion.
"GE is responding to this call with the N37, which retains all the benefits of tried and tested technology but has been adapted to bring increased convenience to the operator." Furthermore, American Petroleum Institute (API) noise and vibration constraints were considered in the design of the N37.
This reliable motor utilizes a rigid frame to meet all common industry requirements to help protect the wellbeing of onsite system operators. The N37 launch marks the first of GE Power Conversion's induction motors to be standardized for a wide range of industrial applications.
It also marks a trend of meeting user demands for pre-engineered components and faster delivery times for Power, Water and Oil & Gas applications. 
GE Power Conversion