Gates' new transfer hose a safe option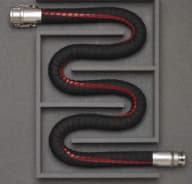 Gates Longhorn MegaFlex petroleum transfer hose is designed to be incredibly flexible, lightweight, safe, and easy to use. 
With a hose ID that equals the minimum bend radius (a 1:1 bend ratio), you'll use less hose and save money.
Gates engineers have redesigned our most popular petroleum transfer hose to make it extremely flexible, lighter in weight, and tough as nails. Improvements in cover materials, wire reinforcement, fabric angles, and tube compounds have produced hoses with a 1:1 bend ratio. Now the minimum bend radius equals the ID of the hose.
Greater flexibility and a tighter bend radius means money saved, because less hose is needed. Lighter weight means workers are less prone to injury from handling heavy, rigid hoses.
Gates Longhorn MegaFlex petroleum transfer hose is perfect for a tank truck, fuel farm and oil field service truck applications, as well as transferring commercial gasoline and diesel, oils and other petroleum products.
MegaFlex hoses are simply easier to handle, especially in tight spaces and around obstacles. They are also easier to connect and disconnect, and they're virtually kink-free. 
With a hose design factor of 4:1 (burst pressure to working pressure ratio) and dual-wire helix reinforcement to resist crushing, these hoses can deliver a long, highly productive life. 
Gates Australia
Ph: 03 9797 9688