Published 28-01-2020
| Article appears in February 2020 Issue
GAS GIANT SUPPORTS KIDS' CANCER ORGANISATION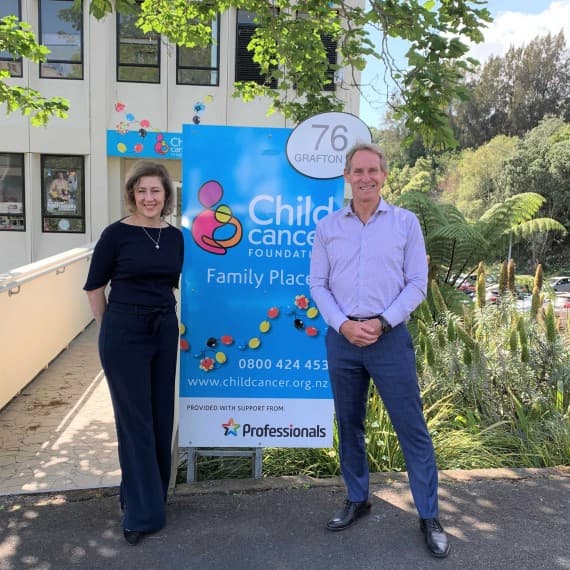 Robyn Kiddle and John Evans
BOC New Zealand has set up a new national corporate giving partnership with Child Cancer Foundation. BOC's staff across New Zealand will rally behind the Child Cancer Foundation through an exclusive programme of fundraising and volunteering initiatives in 2020.
John Evans, BOC South Pacific Managing Director, says that BOC is proud to support the inspiring staff and volunteers at Child Cancer Foundation who provide vital, personalised support to hundreds of families throughout their cancer experience.
"For more than 40 years, Child Cancer Foundation has supported families across New Zealand. With three children being diagnosed with cancer each week in New Zealand, BOC is committed to helping this important organisation continue and expand its work.
"BOC and our staff are incredibly passionate about supporting the communities where we work and live, including families and children and look forward to working with the Child Cancer Foundation as we launch an exciting programme of activities in 2020.
"This will include our Hero Time initiative that encourages staff to take 2-8 hours of annual leave to spend with their families and friends. Their pay for the hours taken will be donated to the Child Cancer Foundation. This will run alongside other event sponsorship, fundraising and volunteering opportunities."
Robyn Kiddle, Chief Executive Officer at Child Cancer Foundation added: "We are delighted to welcome BOC New Zealand on board as a business partner. Child Cancer Foundation doesn't receive any government funding and we rely entirely on our supporters such as business partners and donors to support children with cancer and their loved ones."
"BOC has a wonderful reputation of supporting charitable causes and we see this as the beginning of a long and meaningful relationship. We'd like to sincerely thank BOC New Zealand for their support and look forward to working with them in 2020."