GAS 2015 TACKLES KEY INDUSTRY CHALLENGES
02-12-2015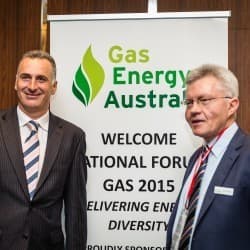 The emissions violations by Volkswagen was one of several key issues discussed at the Gas 2015 National Forum hosted by Gas Energy Australia in Sydney last month.
The Forum brought together key leaders and representatives from industry, government and academia to discuss critical issues influencing the future of Australia's energy sector.
Topics included the environment, innovation, energy security, health and safety, and government regulations.
More than 120 delegates from over 30 different organisations attended the Forum, opened by Mr John Sidoti MP, NSW Parliamentary Secretary for Roads, Transport, Industry, Resources and Energy.
The discussions addressed local issues including NSW Government initiatives to save energy, including gas, and reduce emissions associated with marine transport sector, amid growing concerns about the impacts of cruise ship emission in Sydney Harbour. In addition, there was strong interest from delegates on technologies for real world emissions testing of vehicles in light of the Volkswagen emissions scandal earlier this year.
Technical development topics covered energy supply security, gas safety practices and the role of regulations in the energy industry. Delegates discussed the important role of LPG in providing an energy source for cooking, heating, refrigeration and lighting on short notice in any location after disasters.
Key findings included:
The strong potential for gaseous fuels to meet Australia's energy security needs;
That gas engine vehicle technology developments are closing the gap with conventional vehicles in terms of performance and capital cost; and
The need for continued collaboration between government and industry on future challenges in the energy sector regarding emissions and removing unnecessary regulations.
"GAS 2015 was a great opportunity to work together to address the upcoming challenges facing our industry," said John Griffiths CEO of Gas Energy Australia said.
"It was a critical element of Gas Energy Australia's efforts to develop the future strategic direction for the gaseous fuels industry and articulate the positive role these fuels can play in meeting Australia's future energy needs."
For more information click here.