FROM GARAGE TO WAREHOUSE: FLOORSAFE'S GROWTH IS NO ACCIDENT
21-11-2017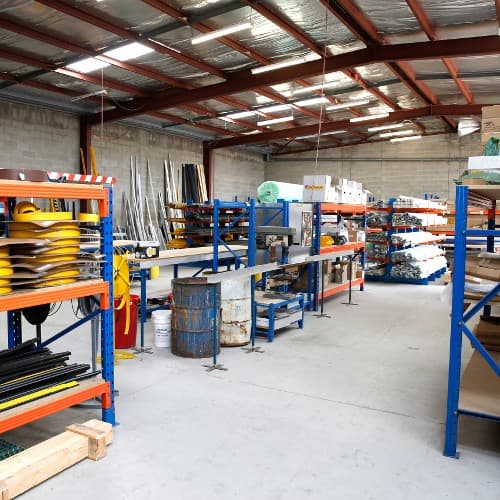 In 1986, while working in Adelaide on a roofing project for McDonalds, a builder asked Philip Zagni "is it possible to anti-slip tiled floors?" This simple question spiked his interest, and after researching the subject he discovered an American-made anti-slip product that claimed to make "slippery-when-wet" ceramic tiles anti-slip safe.
"I still remember how amazed I was seeing the product work for the first time and how immediate the results were," says Zagni. "I absolutely loved the idea that this product could save people from serious slip and fall accidents."
Unfortunately, after using the product for three months problems started to arise. According to Zagni: "I realised the product contained a very high volume of chemicals and therefore the tiles, after treatment lost colour and became very difficult to clean. I set out to produce my own product using a different chemical that was more passive and much safer to use."
After three years of determination, testing and trails Philip Zagni had created a product with which was very happy, including his own formulation for a maintenance cleaner.
In 1991 Zagni was living in a small house with a tiny garage underneath. Determined to make his business work, he mixed up his own chemicals in 20 litre drums, printed his own labels and made his own cardboard cartons. In order to make ends meet he also worked collecting money for various charities.
"Every week I saved enough money to be able to purchase 50 stamps and envelopes," he says. "I would mail out information to organisations I found listed in the Yellow Pages just hoping to get a response."
Zagni moved into a larger home in 1993. Following extensive advertising, contractors all around Australia started to purchase the product. In 1994 he improved the product by developing and incorporating two other compounds. This led him to rename the product as the DIY Floorsafe anti-slip system. The formula has never changed to this day.
By 2001 it was a case of "make or break!" Zagni had invested so much time and energy into his dream and after 10 years he was finally starting to see success. But, like many small businesses, his cashflow didn't allow for major investment.
He says: "With the help of my family I was lucky enough to find bigger premises right on a main road in the Adelaide CBD."
This additional exposure meant that local contractors and maintenance companies were able to stop by and pick up the safety products they needed without delays. It was there in Franklin Street where Floorsafe truly came to be recognised.
As the health and safety industry continued to grow, Floorsafe received increasing numbers of requests for products to make stairs safe. So the company started to stock self-adhesive anti-slip tapes, and the demand was so great that within six months every colour and every size was available.
"It was the increasing demand for the anti-slip tapes that made us aware of the potential for a range of products that could be used to make stairways safe," says Zagni. In 2005, as safety regulations increased, the Floorsafe product range expanded to include aluminium stair nosings, safety tapes, fibreglass products and many more.
Following the initial success of the stair nosings products, in 2009 the company also started to sell a small selection of tactile indicators used to guide the blind and vision impaired.
With its passion for customer service and in order to be able to meet growing customer demand the company needed more space to be able to hold more stock. So in July 2016 Floorsafe moved into a larger warehouse where it is today. The complete new setup allows the company's staff to cut, pack and have orders ready to be dispatched in a few hours.
Today Floorsafe Australia is still very much a family-run business with Philip Zagni's granddaughter helping to run the company and continue its success.
"We pride ourselves on being able to fill any order, whether large or small," says Zagni. "Our staff are polite and understand the benefits of treating someone spending $10 the same as a customer spending $1000," he adds.
And some orders are very large indeed. The newly opened Royal Adelaide Hospital includes 3600 metres of aluminium stair nosings, 900 stainless-steel tactile plates, each measuring 300 x 600mm and 48,000 individual stainless-steel tactiles, all supplied by Floorsafe.
So what are the secrets of Floorsafe's continuing success?
According to Philip Zagni: "We make sure the customer has plenty of choice; we sell quality products at the very best price; we have plenty of stock to fulfil even the larger orders; we make sure product is packed so it is secure in transit; and wherever possible all orders received today are dispatched today."
Floorsafe
1300 717 769
www.floorsafe.com.au