Published 19-05-2020
| Article appears in April 2020 Issue
GANTRY SYSTEMS LIFT AND SHIFT WITH EASE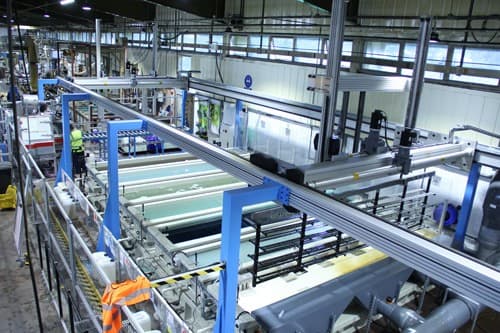 For reasons of safety, efficiency and precision, tasks that involve the movement of heavy or awkwardly shaped products over a large distance are best left to machines.
Industrial robots can transport heavy loads around larger work areas, but for less cost and greater flexibility, a linear motion guided gantry system is undoubtedly the better solution.
With the right gantry in place, even the heaviest load can be lifted and shifted with ease. Staff are kept out of harm's way, increasing productivity, and expensive industrial robots don't end up tasked with duties beyond their scope.
Linear motion expert HepcoMotion has supplied its range of HDS2 gantry solutions to bespoke material handlers Avanti Conveyors for more than 18 years, specifically to lift pallets in a large workspace.
Each gantry has a payload of 120 kilograms. The X-axis moves at a speed of 2m/s, while the Z-axis moves at 1.8m/s and provides a two-metre stroke.
With lengths that range between 12 metres and 30 metres, HepcoMotion's gantries are well-suited to pick and place across a wide area.
HepcoMotion recently installed a rack-driven HDS2 X-Z gantry system in its own factory to act as a multi-station chemical finishing dipping plant. Based on an overall payload of 700 kilograms with a nominal speed of 0.5m/s, the system provides a long X-axis stroke of 14,000mm.
Four-metre slides are lifted and loaded into seven separate dipping tanks. Two heads provide stability when manoeuvring the four-metre lengths, a challenging shape and size that does not easily lend itself to a robot.
Hepco's wide range includes all mechanical elements including legs, XZ beams, slides, bearings, rack and pinions, belt drives and cable chains, all tailored to the individual needs of the customer.
For more information about the HepcoMotion line or linear motion, contact the experts at T.E.A. Transmissions on (07) 4129 2533 or visit tea.net.au.