The future of digital readouts is here now
31-08-2010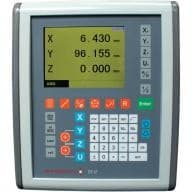 From their years of experience in digital readout (DRO) system manufacturing, Easson has achieved a high level of reliability and durability. 
Not only the electronics and mechanical system design are important, it is also essential that the system must be constructed with highest possible specifications, good material and advanced production technology.  
The ES12 is a step forward in DRO technology.
Efficient production management and low overhead cost have allowed substantial savings and have made it possible to produce the ES-12 with the highest possible specifications and quality in material & components. This has achieved the highest reliability and durability.
The ES12 DRO display has a colour graphic LCD screen and is programmed to allow for ''full options'' and ''all-in-one'' system. 
This makes it possible to select the required application (eg lathe, milling, EDM, drilling, grinding) during the setup of the DRO. Also it allows for the selections of the number of axis and either 5um and 1um accuracy on each axis.
The ES12 series has been specifically designed for retrofitting. 
The many functions available like the Non Linear Error Compensation, Anti-Vibration Filter and Speed Axis Display make it the ideal solution for any type of machine tool.
Each preset program has its results displayed on the graphic led screen. This allows the operator to see what the program will produce before any machining takes place.
Hare and Forbes
Ph: 02 8838 3502