Published 14-07-2020
| Article appears in August 2020 Issue
FUJI SMBE MACQUARIE EXPANDS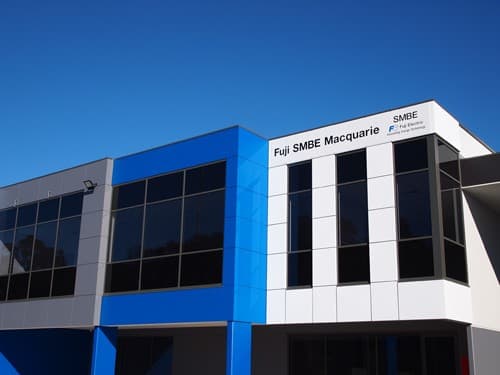 Fuji SMBE Macquarie, a leading producer of Aussie-made switchboards, has moved its operations to a new, high-tech customer-responsive facility at Prestons, NSW, to better serve its customers.
Along with the Fuji SMBE Harwal facility, the new location brings the Group's local manufacturing facilities to more than 6,000m2 with a specialised focus on Australian design, manufacture and testing of engineered modular and custom-built low-voltage electrical switchboards and motor control technology.
Fully backed by local service, Fuji SMBE Macquarie's range of switchboards provide advantages for applications including industrial, commercial, hospitality, data, health, infrastructure, rail, mining, retail and financial institutions.
"The demand for Australian-made products has increased since COVID-19, so our move to a larger facility that can better serve our customers was well timed," says Peter Silsby managing director of Fuji SMBE Macquarie, which is a wholly owned subsidiary of Fuji Electric.
"Our new Prestons facilities have been specially designed to produce low voltage switchboards that have optimum levels of safety, efficient performance and cost-efficiency to deliver the best value to our customers."
Fuji SMBE Macquarie designs and manufactures its electrical switchboards to be compliant with AS/NZS 61439, which specifies stringent verification requirements on switchboard manufacturers.
Advantages of the Fuji SMBE Macquarie designs include custom sizing to suit particular site spaces, versatile and flexible construction that includes front and rear access where required, type-tested bus bar systems up to 7000 amps, flexibility to enhance, adapt and extend as performance requirements evolve, and the ability to meet short delivery lead times as required.
"We know that technology is constantly evolving, and all our products are designed to be highly flexible and adaptable to futureproof each client's investment," Silsby says.
The AS/NZS 61439 specification includes a focus on design verification and validation from temperature rise to short circuit and corrosion testing, which impacts the design and verification process for low voltage switchboards.
Silsby says this provides Fuji SMBE Macquarie a greater opportunity to refine its primary focus of operator and product safety.
"The new standard goes hand-in-hand with ISO9001 Quality Assurance certification, which Fuji SMBE Macquarie has in place for our new facilities," he says.
"ISO certification demonstrates our commitment to continual improvement of the system and the assurance of conformity to statutory and regulatory requirements."
Fuji SMBE Macquarie
02 9733 0600
www.smbmacquarie.com.au