FUEL-CELL-POWERED FORKLIFTS POINT TO HYDROGEN ECONOMY
29-11-2016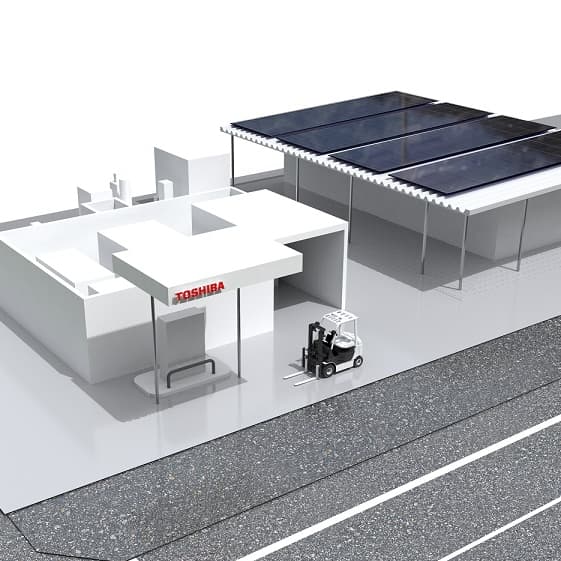 Toshiba has commenced construction work on a new facility in Japan it reckons will demonstrate the validity of the hydrogen economy in an industrial environment. The new hydrogen application centre is scheduled to start operation in April 2017 at the company's Fuchu complex in western Tokyo, and will use the Toshiba's novel hydrogen power system dubbed H2One.
The H2One power system uses renewable energy from a rooftop photovoltaic array to produce hydrogen from water. The hydrogen produced at the centre will be stored in collection tanks and then used in fuel-cell powered forklifts operating throughout the Fuchu complex. These fuel cells can be quickly refuelled with the hydrogen from the collection tanks, and so will be available 24 hours a day.
According to Hiroyuki Ota, Project Manager of Toshiba's Energy Systems and Solutions (ESS) Company: "We will utilise experience and knowhow gained from the Hydrogen Application Centre to develop H2One [systems] for use in factories, warehouses, logistics facilities and airports. We want to make Fuchu complex an environmental model factory for the realisation of a carbon-free society where hydrogen energy is widely used."
The pilot system at the Fuchu complex will be controlled by a novel hydrogen energy management system. H2EMS incorporates a hydrogen demand prediction function that forecasts the ongoing hydrogen requirements of the fuel-cell vehicles, helping reduce the requirement for hydrogen storage.
Toshiba
www.toshiba.co.jp