FRONT-END MODULE FOR IOT SYSTEMS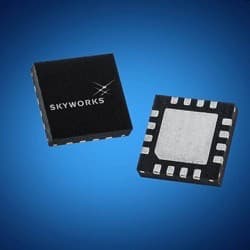 The SKY85726-11 front end module from Skyworks Solutions is available from Mouser Electronics. This 5GHz WLAN device is ideal for Wi-Fi 6 (802.11ax)-based IoT systems, offering a fully integrated solution measuring just 3 x 3mm.
The module integrates a 5GHz power amplifier, a single-pole double-throw transmit-receive switch and low noise amplifier with bypass mode into a single 16-pin QFN device. The amplifiers' disable functions ensure low leakage of current in off mode, and an integrated power detector provides closed-loop power control within the system. The device offers excellent linearity with high gain and a 50dB antenna for isolation.
Mouser also stocks the Skyworks SKY85726-11EK1 evaluation board, which includes SMA connectors and pinouts to help engineers demonstrate the capabilities of the module.
Mouser Electronics
+852 3756 4700
au.mouser.com