FRENCH-AUSTRALIAN PARTNERSHIP UPSKILLS DEFENCE
08-05-2018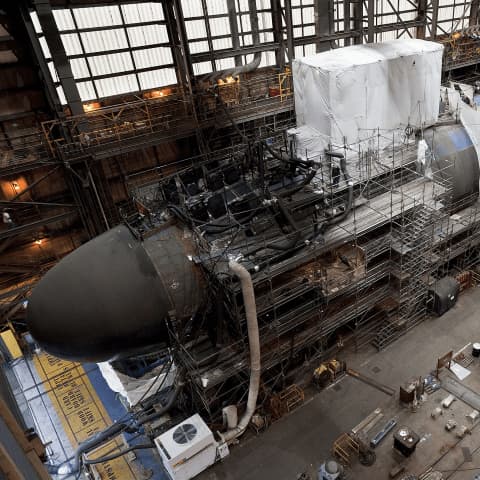 The University of Adelaide has partnered with French education institution ENSTA Bretagne to create a specialised hand-up into the world of shipbuilding and defence with a combination of tailored education and practical industry experience.
The partnership offers dual Masters Degrees in marine engineering, and will be offered to skilled engineers for the Australian and global defence industries, with a specific focus on submarine- and ship-building.
The programme, a Master of Marine Engineering from the University of Adelaide and a Master of Science in Marine Engineering, Surface Ships and Submarines from ENSTA Bretagne, will begin in France in August 2018, and will continue at the University of Adelaide in February 2019.
Professor Pascale Quester, Deputy Vice-Chancellor (Academic) at the University of Adelaide, said the programme would feed directly into the defence engineering skills base available to South Australia.
"The programme will target technicians and engineers from Australia or internationally who are seeking to upskill or transition from other industry sectors, such as manufacturing, as South Australia prepares for $89 billion of defence spending on submarines and surface ships over the coming years," he said.
The international Master's programme will offer students (both experienced engineers and recent undergraduates) one semester in Brest, France, one semester in Adelaide, South Australia, and a third semester in a jointly supervised industry internship.
South Australian Premier Steven Marshall, who also leads the state's defence portfolio, said his number one priority was to ensure South Australia had the requisite skills to carry out the major defence projects.
"We called for a naval shipbuilding skills taskforce from the minute that the submarine announcement was made because we knew there was an order of magnitude increased requirement for technical and engineering skills in South Australia going forward," he said.
"If we don't get this right, the technical skills shortage we have at the moment will turn into a technical skills crisis that will ultimately result in massively increased costs not only for the submarine and the future frigate build but for every other business that requires technical skills in South Australia."
"You can have the reverse effect of increasing the cost for the rest of business through the success of the shipbuilding process and we can't have that so we're working very proactively in trying to create more opportunities for technical skills development in South Australia."
"We've already committed $100 million worth of additional funding over the next four years and we're seeking a further $100 million of matching Federal Government money under the Skilling Australians program."
Last year the University of Adelaide partnered with the University of South Australia, Flinders University, TAFE SA and the Defence Teaming Centre to form the Defence Industry Education and Skills Consortium.
The consortium works with multinational, national and local defence companies to ensure Australian jobs are at the forefront in defence projects worth $195 billion over the next 20 years. This includes the Australian Government's $89 billion investment in naval ships and submarines, the bulk of which are expected to be built at Techport Australia in Adelaide.