Freighter wins safety award for trailer design
03-12-2013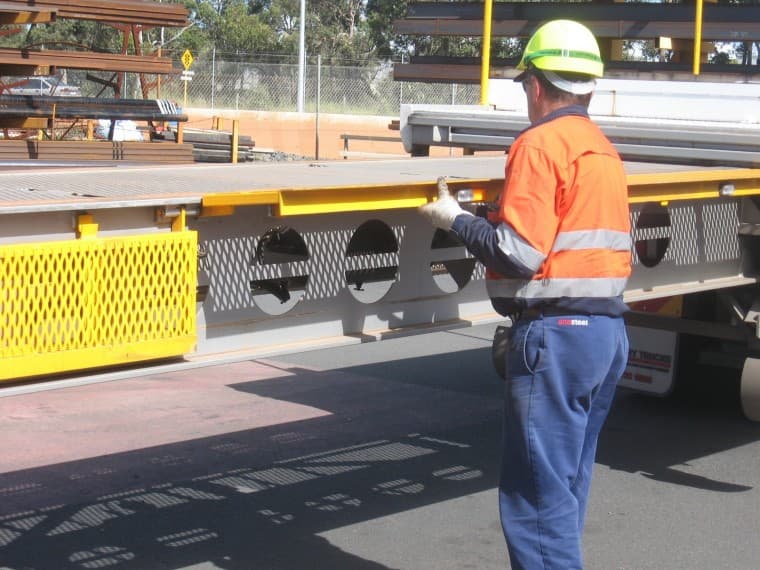 Trailer brand Freighter has won an award for safety initiative at the annual Steel Transport Safety Network Awards in Sydney. 
The Safety Improvement Initiative Award was presented to Freighter for modifications it made to the standard design of its extendable semi-trailer. 
Instead of the usual bare main rails between deck sections when the trailer is extended, Freighter engineered a walkway which folds out around the main rails as the trailer extends. 
This provides drivers and staff with a safe walkway between the front and rear sections of the extended trailer, thus eliminating the risk of falling between the gaps in the main rails.
Technical Manager, Greg Brown accepted the award on behalf of the Company. 
"We engineered this trailer based on a request from our customer OneSteel, who wanted to improve their driver safety when working in and around extendable trailers – which is commendable in itself," Mr Brown said. 
"At OneSteel's request, we have designed an extendable trailer with a walkway which folds out to be 1.7m wide between the two main decks of the trailer. This means that workers can safely walk between decks without risk of falling."
OneSteel National Transport Safety Manager Paul Driver said the trailer has been well received and the innovative Freighter design would now be specified as standard for all future new extendable semi-trailers.
MaxiTRANS Australia Pty Ltd
Ph: 03 8368 1117