| Article appears in Issue
As freight and logistics get tough, Price and Speed's investment in capability rises to the challenge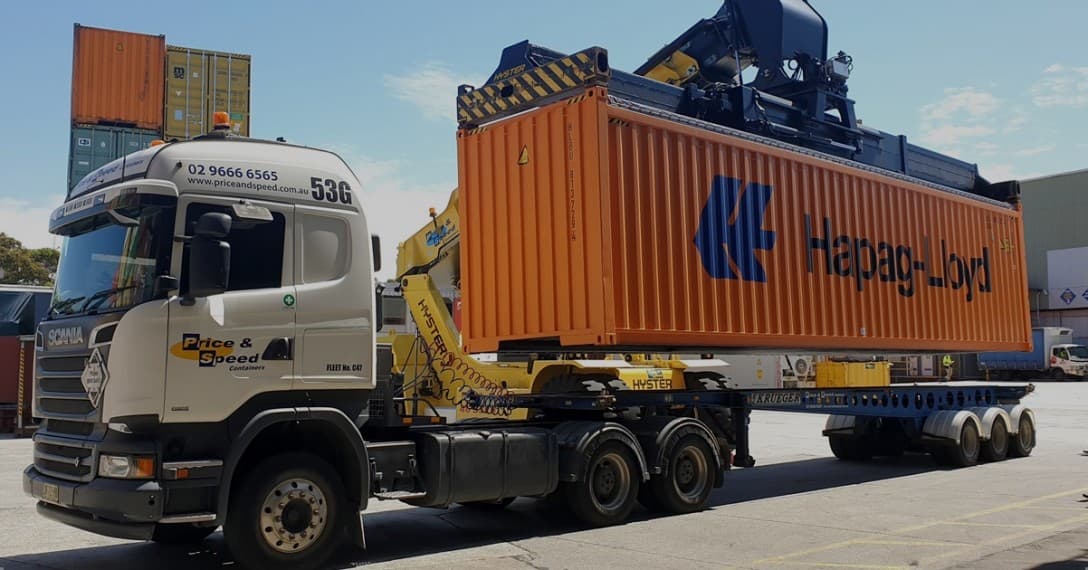 Price & Speed Containers' five Sydney depots utilise a large fleet of heavy trucks and more than 80 forklifts, and diesel and hydraulic of different shapes and sizes. Hydraulink's 24/7 service keeps all the machines running smoothly and efficiently.
Shipping congestion and stretched carrier capacity are the most pressing issues the Australasian freight and logistics sector is facing today, with the COVID-19 pandemic, international container shortages, industrial action, and available port infrastructure all playing a part.
So the risks of compounding costs, delays, and broken communication chains are the last things importers or exporters want to deal with when chasing their valuable and essential cargoes through the supply chain serving all our major industry sectors, including manufacturers, mining and technology, food and beverage, transport, construction, and infrastructure technology.
That's when the benefits become apparent of dealing with a freight forwarder and customs agent which has invested – over many decades – in quality facilities, experience, skills, and machinery that bring the job efficiently under the one corporate roof, so that even in the most trying of times they can deliver with industry-best standards of service and reliability.
"When times are tough, that's when the difference in service quality and efficiency is most clearly apparent," said freight forwarding and customs agency veteran Kevin Malouf. "That's when the cracks emerge in cut-price operations with late deliveries. Lost opportunities multiply because some weaker parts of the distribution system falter under stress."
"No-one is enjoying the current congestion, and no-one is totally immune from it, but it is certainly sorting out the strong from the weak," said Mr Malouf, who has invested more than 30 years into making his family company Price & Speed Containers into one of Australia's leading freight forwarders and Sydney's largest privately-owned combined manned quarantine depot and bond.
The company has integrated under the one corporate roof a broad range of service and hire facilities so customers can deal with a one-stop shop, rather than having to chase their consignments through a multitude of suppliers (www.priceandspeed.com.au).
Although Price & Speed has invested multiple millions in the best facilities, people are the most important asset according to Mr Malouf. "I believe the most important thing I have in my organisation is my personnel, from management down to janitors. We have always actively strived to get the best people in the industry, with the knowledge of every facet of sea and air freight, ground handling, bond and fumigation, and oversize transport container truck configurations to handle all sort of cargo, from palletised to aircraft. Whether it is a Lamborghini on an air freight pallet or a 25-tonne coil on a flat rack, they all need the correct handing equipment and personnel to do the job and do it right."
Price & Speed optimises the uptime and efficiency of its materials handling fleets by using Hydraulink mobile service technicians to service and maintain it in optimum condition for 24/7 operation. Price & Speed has a fleet of approximately 80 large forklifts (7t to 50t) across its five depots, plus a large fleet of smaller warehousing forklifts and another 60 large forklifts being used by their customers through hire or sales agreements. The forklifts are used to efficiently handle a wide range of tasks, including the movement of bulk materials containers to customer schedules for which optimised forklift uptime is vital. The company has one depot dedicated purely to forklifts and maintenance, keeping this vital equipment in peak condition, and another to manufacturing diverse steel products, ranging from specialist materials handling cradles through to mesh products for outdoor advertising fixtures.
Hydraulink NSW State Manager Mark Andrews said Price & Speed stipulate top world standards of competitiveness, safety and machinery availability to complement their own reputation for quality, in-depth service.
"Kevin Malouf is a very hands-on man who knows the difference between a cheap, low-value job and in-depth, high value expertise that will keep his fleets stronger for longer. His asset management is outstanding – his attitude to safety and efficiency is focussed on deep values that deliver the best outcomes."
Hydraulink Botany – a branch of the extensive Hydraulink network, which includes more than 400 service points across Australia, New Zealand and Oceania offering 24/7 service availability – is typically able to respond quickly and be onsite within 30 minutes at either of Price & Speed's five depots in Banksmeadow and Botany.
Ms Melody Jacobs, Executive Assistant, Price & Speed, said that if a single container handler, reach stacker or other forklift needs hydraulic repairs outside of regular programmed maintenance, "it can have a huge knock-on effect for a fast-paced business like ours."
Price & Speed machinery – including essential specialised hydraulic machinery – is spread over a broad range of ports and logistics services, including container handling, bonded storage, quarantine freezer and cold storage, fumigation, quarantine inspections and fresh produce and flower depot services.
"So it is important that a company like Hydraulink has not only top world standards of service over multiple situations, but also that it has strong knowledge of our diverse site and machinery conditions. Otherwise, the service provider is having to re-learn the job in every new situation they attend, which is neither efficient nor good risk management. We feel very confident in the standards of quality service, machinery and site knowledge that Hydraulink demonstrates over the years we have been working with them," Ms Jacobs said.
"If cargos from earlier shipments cannot be processed because the previous ship's cargo remains at the port, it can cause considerable delays as the queue backs up at the wharf. Furthermore, with demurrage fees of up to $1,000 per day, per customer, this is not a desirable situation."
"With such a diversity of equipment and materials handling tasks, every job Hydraulink does for us is different from the last one. Their extensive range of top-quality hoses, fittings and accessories – most of which every Hydraulink mobile technician has on board their large service trucks – ensures jobs can be done quickly and efficiently with the right parts."
"In addition to the forklifts at our depots, we can't afford to have a forklift that's out on hire stop working, because our customers are relying on us for efficiency and uptime. We can always rely on Hydraulink to be on site swiftly and solve any problems, no matter the size or complexity."
"Hydraulink's mobile service technicians are mostly here in a couple of minutes and never more than about 30 minutes. This is a huge advantage for us, so that we can keep operations moving as quickly as possible."
Hydraulink's Mark Andrews said Hydraulink Botany is well equipped to have service technicians on call located close to Port Botany, to deal with both routine servicing such as mobile service hose replacement and more specialised fabrication of hydraulic piping for some sophisticated installations. Hydraulink service applications include hoses and accessories for quarantine wash bays and Price and Speed's fleet of prime movers and trailers.
"We pride ourselves with not only being familiar with the broad range of Price & Speed's outstanding operations, but also the logistics industry within which they work. It is an advantage to be able supply the same consistent global standards of quality and safety across multiple sites and diverse machinery."
Price & Speed's depots are ideally located next to Sydney's ports, so that customers can save transport costs, and achieve best-practice in quarantine by treating any items straight off the ship. A second Banksmeadow site was recently added to meet strong market demands and double the volume capacity.
Fast-paced industry
Hydraulink Botany Branch Manager, Mr Rhys Nelson said the ports, logistics and bulk materials handling industry is one of the most demanding and fast-paced industries in Australia, with cargo constantly being shipped in and out, and delays affecting customers and their customers, particularly under current conditions.
"This places a strong emphasis on responsive service, and understanding the demanding needs of local ports customers. "I was a service technician prior to taking on my current role, so I can appreciate the demanding schedules all our ports customers are working to, and the need to maximise uptime and avoid demurrage fees," Mr Nelson said.
"We've got four full-time staff at the Botany branch, and we can readily draw upon neighbouring branches and Hydraulink mobile franchises whenever we need more resources."
"We're delighted to be able to make such a positive impact on Price & Speed's operations, and we look forward to approaching any new problems with Hydraulink's well-known 'can do' ethos."