Materials Handling & Equipment
Free up V belt space, and double transmission with Red Power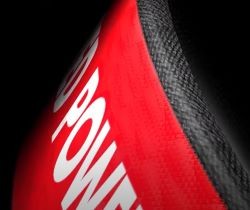 Optibelt's Red Power 3 premium power transmission V-belt offers high performance in confined spaces.
If you want to give your production line a space – saving and cost effective re-think, Optibelt's compact Red Power 3 V-belt is the answer.
Ideal in mechanical engineering and designed to reduce the number of belts required, the Red Power 3 provides up to 50 percent high power transmission capacity compared to conventional v-belts.
The longer life span and significantly reduced maintenance needs of the Optibelt Red Power 3 makeS it the perfect replacement for overloaded drives.
The Red Power 3 ensures consistent power transmission across a temperature range of minus 30 degrees Celsius to over 100 degrees C.
Unlike conventional v-belts the Red Power 3 is maintenance free and requires no re-tensioning.
Optibelt's expertise in modern production methods allow the v-belt to perform with the highest efficiency available.
To find out more about the Red Power 3 V-belt, contact Optibelt on 038791 2700 or visit them online on www.optibelt.com