FREE GUIDE TO IMPROVING COMPRESSOR EFFICIENCY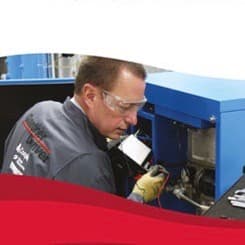 Industrial compressor and vacuum leader Gardner Denver has released a free guide for businesses seeking to improve their compressors' energy efficiency, overall performance and total cost of ownership.
Available to download here, the guide highlights factors that can improve a compressor's total cost of ownership, including correct specification and prioritising whole-life costs. It also explains how owners and operators can make savings and efficiency gains by carrying out an energy audit, and what an audit from Gardner Denver entails.
It also highlights common issues that can reduce a compressor's overall efficiency, and how to resolve them. It describes the increasing importance of the IoT and Industry 4.0 in maintaining efficiency and optimising performance. Specifically, it explores how Gardner Denver's cloud-based air management platform, iConn, can deliver advanced analytics to help operators identify when, where and how energy waste occurs.
"Identifying inefficiencies and optimising compressor performance is increasingly vital for owners and operators looking to improve their bottom line," Gardner Denver Sales Manager Keith Atkinson says. "We hope that by highlighting key areas where energy might be wasted and overall efficiency could be diminished, issues surrounding equipment performance can be avoided.
"When you consider that energy costs account for over 80 per cent of a compressor's total cost of ownership, improving its performance and efficiency can result in huge benefits. Our new guide has been written with this in mind. We hope compressed air users find it useful."
Gardner Denver Industries
03 9212 5800
www.gardnerdenver.com/industrials