Materials Handling & Equipment
Published 13-08-2019
| Article appears in August 2019 Issue
FOUR-WHEELED CASTORS TRANSPORT A HEAVY LOAD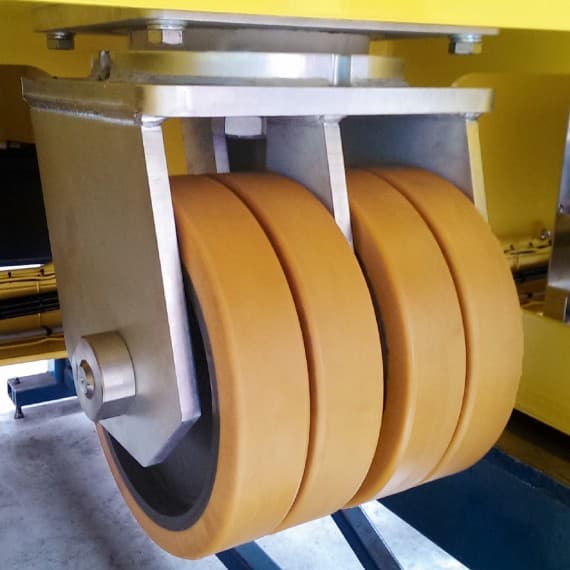 Heavy transportation and industrial automation specialist AVT Europe is based in Essen in northern Belgium. The company specialises in driverless heavy-load transporters for the movement of very large and very heavy items such as railway carriages and aircraft parts.
These transporters are massive mobile platforms bristling with intelligent electronics. They can carry loads of up to 100t and are operated remotely.
AVT's transporter design combines load-bearing castors and separate drive wheels. The load-bearing castors are always in use, and the weight of the item being transported is distributed evenly using air cushions. The drive wheels are lowered automatically when needed, to help to set the transporters in motion.
The transporter design called for small diameter castors that could handle loads up to 12 tonnes in motion and 20 tonnes while stationary.
High quality and durability were also key factors because the transporters would be supplied to high-profile industry leaders such as Daimler, Airbus and CERN (the nuclear research institute) – all organisations that need robust and reliable transport for extremely high-value goods.
AVT also needed component parts that would allow it to supply the transporters with a two-year warranty and an operating life of 20 years.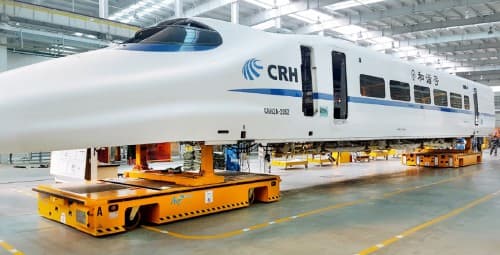 Tente's answer to the design brief came in the form of its Omikron quadro special-purpose castors. The custom-built design features four 400mm wheels, with two to the left and two to the right of the centre. This arrangement provides an increased load-carrying capacity and a lower load point, with improved distribution of the applied load.
The four-wheel castor can be steered very easily because of the counter-rotation of the wheels around the common centre point. This significantly reduces the rolling and pivoting resistance in comparison to a single-wheel castor. Another advantage is that all the running surfaces are polyurethane, which not only helps the handling characteristics but is also easy on the floor.
"What convinced us was the durability of the special-purpose castors – and the know-how of our business partners at Tente," says AVT Europe General Manager Maarten Van Looveren.
The sophisticated design of the Omikron castors combines extreme durability with very low rolling resistance. As a result, the transporters can be designed with smaller lower-cost drive systems, saving both cost and ongoing power consumption.
Tente's staff in Belgium are continuing to work closely with AVT, responding to the growth of the company and providing advice on future custom development projects.
Tente Castors & Wheels
1300 836 831
www.tente.com.au