FOUR SIMPLE SAFETY TIPS FOR OUTDOOR WORKERS
22-04-2016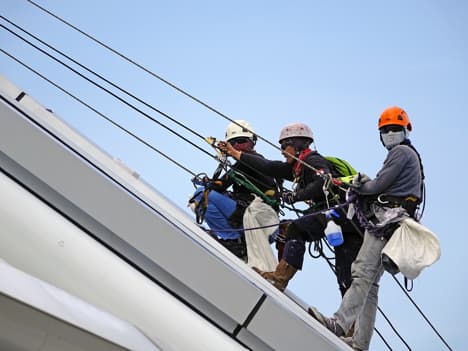 Not everyone is suited to office work.
For workers who prefer not to sit behind a desk there are many jobs available in the great outdoors.
Outdoor jobs can be found in construction, mining and quarrying industries.
Jobs in utilities, landscaping, parks and camps also offer outdoor work.
But outdoor work can also pose many health risks including:
·       Extreme heat or cold
·       Exposure to the sun
·       Poisonous plants
·       Venomous animals
·       Diseases that are vector-borne
·       Accidents and physical injuries
Here are four easy to remember safety tips for outdoor workers:
1. Wear protective clothing
One of the simplest but most useful things that workers can do to reduce the risk of injury is to wear protective clothing.
This may include high visibility workwear, safety glasses or goggles, coats, helmets, shields and boots.
Wearing full protective clothing is the best move that workers can do in order to minimize the hazards of working outdoors.
Some jobs would require specialized clothing, and those should be used all the time.
2. Always follow workplace safety rules
Many outdoor work environments place strong emphasis on safety.
Construction sites are especially prone to accidents. Construction workers and other outdoor staff should always follow company safety rules to prevent workplace accidents.
3. Report possible safety risks
Staying safe in a workplace is all about prevention and there is no better way to do that than by reporting any hazards and safety risks even before they can pose a threat. That's the duty of the workers as they are the ones who can see potential risks.
Workers should inform their superiors of workplace safety risks to help prevent injuries and accidents.
4. Know where to find first aid kits
No matter how careful people are, accidents can still happen. In those cases, workers should be prepared to handle the situation.
Workplaces should have first aid kits in a handy location. It is important for staff to know where to find safety kits in emergency situations.
For more information on workplace first aid visit: www.alsco.com.au/services/first-aid/