Forktrack improves workplace safety
31-08-2010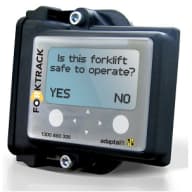 The large number of forklift related injuries within Australian warehouses each year, enforces the importance of safety when operating these powerful machines. 
Adaptalift Hyster's ForkTrack Safety System delivers a solution to common causes of forklift accidents, helping to improve safety in the warehouse. 
Features within ForkTrack such as the Digital Weight Indicator and Lift/Tilt Lockout assist in preventing accidents caused by overloading the forklift. Such safety features provide operators with overload warnings, delivering control of mast movements when a forklift is nearing its rated capacity. 
Further, other causes of accidents, such as speeding and improper parking, can be prevented through Speed Zoning and Handbrake Control.
And ForkTrack's Seatbelt Interlock feature ensures that operators wear seatbelts at all times and stay safely inside the cabin if the forklift tips.
By improving operator behaviour, ForkTrack can help you to decrease warehouse accidents.