FORKLIFTS AND REACH TRUCKS ARE FIT FOR LOGISTICS LEADER
13-02-2017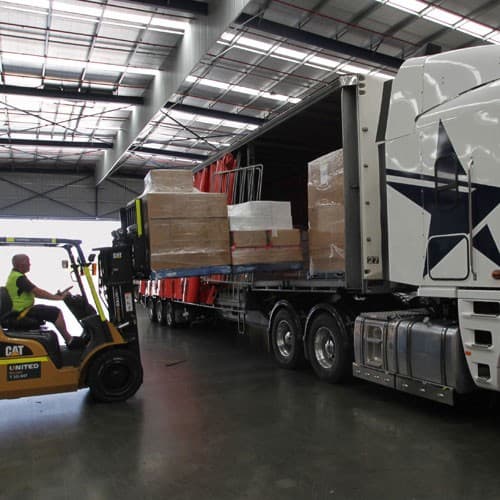 Customer service and problem solving ingenuity have landed United Forklift and Access Solutions a major contract with a nationwide logistics leader. Bluestar Global Logistics offers a one-stop shop for logistics services, including national door-to-door deliveries, international freight forwarding and 3PL warehousing.
United has supplied more than 60 units to Bluestar's depots nationally. A combination of heavy-duty and high-performance CAT 2.5t LPG forklifts, CAT 3.0t LPG forklifts and CAT 1.6t electric reach trucks were chosen for the task, which are ideally suited to heavy-use industries like logistics, warehousing and transport.
"In a competitive tender, United were the standout company, because their service truly went above and beyond," said Peter James, Asset & Compliance Manager, Bluestar Global Logistics.
Before submitting their tender, United visited each of Bluestar's national offices in Melbourne, Sydney, Brisbane, Adelaide and Perth to assess areas where it could provide cost-saving solutions that optimised efficiency and productivity.
United's National Major Accounts Manager, Mark Pemberton, and his team identified two major problem areas where United could provide innovative solutions. "We discovered that the hosing and hydraulic cylinders in their old fleet were left too exposed, and they were having to replace them frequently due to damage. Our CAT forklifts have been fitted with a low profile hose, which is positioned further back, along with a custom-designed and manufactured cylinder protector. Both of these features reduce damage to these otherwise vulnerable parts and enhance the overall safety of the machines, ultimately reducing the cost of life to our customer," said Pemberton.
"The other wear issue we identified was that the heel of the forklift tines was wearing out over time, and once it's worn past a certain point, the forklift is no longer standards or safety compliant. We added a lift cylinder spacer, which means that when the front of the tines are touching the floor, the back is still slightly elevated. In addition to stopping wear from hitting the ground, it stops the heel scraping along the ground if the forklift moves with its tines down," he said.
Peter James is particularly impressed that United didn't just set out to fill the tender requirements, but sought to exceed them and use its industry expertise to identify areas where it could bring a genuine benefit to Bluestar's operations.
"We understand that additional features or services are going to cost us money – as they should. But when you're paying one or two hundred extra up front for a feature that means you're not buying a $900 replacement part every few months – the cost savings really add up," said James.
United's CAT forklifts are all speed-limited to Bluestar's site requirements and feature CAT's electric onboard pin-code access system, which prevents unauthorised use of the machines.
Each forklift features a swing-down LPG bracket for the gas bottle, so that operators never have to lift the bottle during replacement, which would cause excess operator fatigue.
"Forklifts are the lifeblood of our business," says James. "Our customers expect quick delivery times, and their customers expect quick delivery times, so there's a significant flow-on effect if we have any issues with our forklifts."
CAT 2.5t and 3.0t forklifts are equipped with a high-powered and electronically controlled K21E LPG engine, which provides greater power and lift speeds than other equivalent models. This added power ensures heavy-duty performance whilst maintaining the efficiency necessary for use in the most demanding applications.
CAT electric reach trucks combine state-of-the-art engineering and modern style design to create exceptional levels of productivity. They include an extensive range of innovative features that provide high efficiency, outstanding ergonomics and low maintenance needs in the most demanding warehouse environments.
"The United team are a good cultural fit for us. I pick up the phone and things happen. Over the busy Christmas period one of our off-site warehouses was expecting a higher delivery volume and I needed to transfer a forklift there. I called the local United facility in Altona and the team made arrangements and had one transferred there later that same day. You just can't beat quality service like that," said James.
"Another major advantage to us is that United is a national business, but they give us localised reporting, including cost-of-life reporting and KPI monitoring. If a forklift needs repair or a delivery is going to take a week, they give us immediate feedback and help us make other arrangements where necessary," he said.
United Forklift and Access Solutions
131 607
www.unitedequipment.com.au