FORKLIFT SPECIALIST SCOOPS TOP PRIZE FOR HIRE AND RENTAL
07-06-2018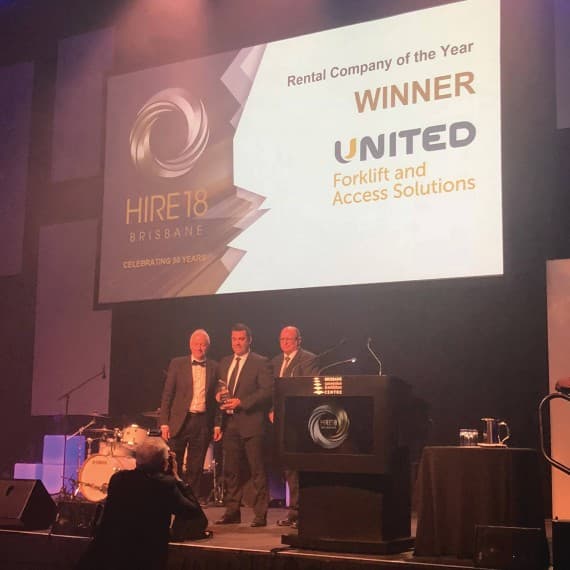 United Forklift and Access Solutions' Trent Osborne and Doug Rawlings, centre and right, receive the accolades of the HRIA Hire18 gala night
United Forklift and Access Solutions has been named 2018 Rental Company of the Year by the Australian Hire & Rental Industry Association, HRIA.
Accepting the award at the HRIA's 50th anniversary Hire18 event in Brisbane, Trent Osborne, United's General Manager of Marketing, Sales and Distribution said: "This award is a credit to the hard work, dedication and commitment that everyone in the United Team shows on a daily basis. It is a strong testament also to our suppliers and customers, with whom we share time and energy to form truly productive partnerships based on shared industry knowledge and understanding of customer needs and methods, so tasks can be swiftly and safely accomplished."
The Hire18 Awards event for industry high achievers is the premier event of the HRIA, which is the official industry association for hire and rental companies in Australia. HRIA members serve industries such as manufacturing, materials handling, mining, construction, and a huge range of others where hire and rental equipment is essential for daily operations.
The awards' comprehensive judging criteria – which earn it extensive industry respect – included a comprehensive United Forklift and Access Solutions site inspection involving a set of standards for which it was ranked 1-10.
"To score well on so many fronts was a very through endorsement of our Team and the facilities with which we empower them to serve our customers, who are the focus of the business," said Osborne.
Hire18 became a double celebration for United when its major supplier partner Haulotte also took out an award, winning Best New Product for the HA26 RTJ Pro articulating boom lift.
United Forklift and Access Solutions
131 607
www.unitedequipment.com.au