FORKLIFT FUNDAMENTALS PART 3: ATTACHMENTS
21-11-2017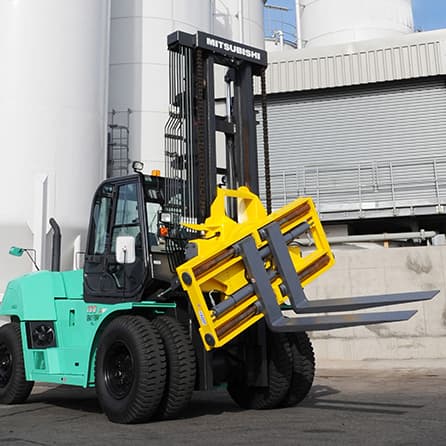 Ross Grassick looks at some of the most common forklift attachments and advises on their safe specification and use.
Today more than ever forklifts are being used to handle a number of different products, and these products do not all fit on a standard pallet.
For this reason there is a large range of attachments that can be fitted to forklifts to make the handling of these products both safer as well as more efficient.
Forklift attachments come under two basic classifications: manual attachments that operate on forklifts without the need for extra hydraulic functions; and powered attachments that require forklift hydraulics or power to operate.
The first thing we should all understand with any attachment is that the attachment must be suitable and rated to be used on the forklift to which it is fitted.
This can be confirmed because the attachment to be used on the forklift must be shown with its appropriate ratings on the forklift rating plate.
If you have an attachment that has been used with one unit on your site it cannot be used with another unit until it has been rated to that unit.
Manual handling attachments
These are some of the more common manual handling attachments.
Slippers or fork extensions are the most common manual attachment. These come in various lengths and are available in capacities from 1 to 20t.
Carpet prongs are used to lift long rolls of carpet or other similar packaged material. These come in sizes to suit your needs. The same type of prongs can be used to lift wire and steel coil up to 20t.
Man-up cages are used for safely lifting personnel up with a forklift for short-duration jobs. They are not to be used for order picking or constant man-up jobs.
Forklift jibs are used for lifting loads that require slings, chains or have a lifting eye. They come in several types and may be fixed or extendable in length. Capacities for these attachments range from 1 to 20t. Note: these cages require special drop testing, and your forklift must be suitable for using a cage.
Tarp spreaders are used to distribute tarpaulins over loads on trucks.
Load spreaders are used to stabilise long loads such as wall board that could bend and break or have excessive bow. These are available to suit all shapes and sizes of machine.
Drum handling is an art form with several types of attachments available for handling standard 205L drums in metal and plastic. They come in single, double, top, pick, side pick and rim pick types.
Powered attachments
Today, powered attachments come in many different shapes and sizes, and are generally designed to manipulate a specific type of load. These include paper grabs for handling paper rolls and other round products, win pallet handlers for loading more than one pallet at a time, and even keg and barrel handers to load and rotate as required.
In fact, there is hardly any limit to the attachments that can be made to make handling more efficient and safer. But these attachments are far from a one-size-fits-all solution as in many cases they need to be built for the job.
However, some of the more commonplace powered attachments, such as the side shift that allows a load to be moved left or right, have become standard equipment. This is also true of the fork positioner that allows the fork tine to be adjusted from the driver's seat.
The side-shift is the original and most common powered attachment. It allows the load to be shifted at 90 degrees to the forklift by about 150mm. They are virtually standard equipment today as they improve loading speed by up to 20%.
Rotators come with 360 or 180-degree capabilities, with or without clamping action. These units are available for all capacities of forklifts. These units are also available with load hold down to allow boxes to be emptied.
Carton clamps (or white goods clamps as they are sometimes called) are used to clamp goods for moving without a pallet. The arms are available in different sizes and are fitted with rubber pads to stop damage to the goods as well as an adjustable valve to limit the pressure applied. These units are available with capacities up to 3000kg.
Push pull attachments are for the movement of goods without pallets. They work with a slip sheet, which is a sheet of plastic or cardboard on which the goods sit and are pulled on or pushed off hydraulically. Not only does this technique save the weight of the pallet, there is also no need to track or retrieve the pallet.
Paper roll and general roll clamps are used to clamp rolls of product. These units come in a variety of combinations and a vast range of sizes, and need to be specified on an application basis. Note: roll clamps have multiple facings to prevent damage to the roll materials. Some use vacuum grabs to stop all damage.
Extender forks are used to extend the load forward to load trucks from one side or to load double-deep racking. The disadvantage is that these units entail a large loss of capacity. They are mainly fitted to 1500 to 3000kg units.
Twin pallet handlers come in many sizes, and enable the simultaneous loading of two pallets.
Standard clamps also come in many sizes, and enable the gripping of non-specific loads.
This is far from an exhaustive list of all the attachments you can fit to a forklift, and we could not show all that are available. The best way to find the attachment for your situation is to call a professional and give them the size, weight and description of the load that needs to be moved.
Chances are that if there is not a standard attachment available, one can be manufactured.
Remember: although a forklift attachment may seem an expensive extra that you could get away without, it could save a lot of money in damage.
And who can put a price on safety?
Lencrow Materials Handling
1300 536 276
www.lencrow.com.au