FORGET SKILLS SHORTAGES – HERE COMES THE TALENT CRUNCH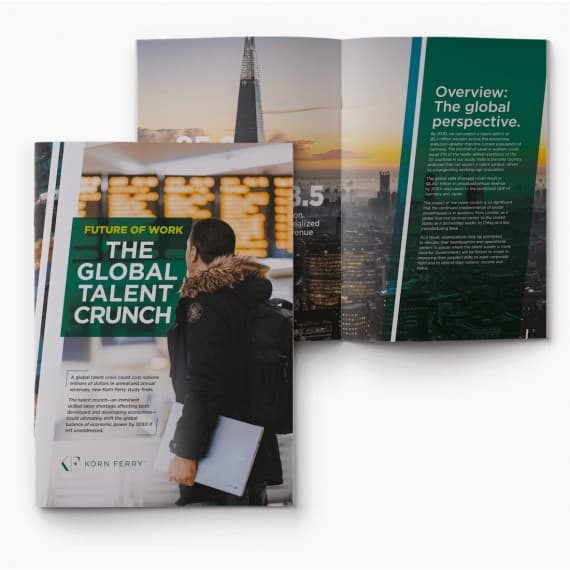 While much has been said and written about skills shortages, both in Australia and worldwide, organisational consultancy Korn Ferry is warning of an all-embracing talent crunch, which will have more severe implications than any specific gap in the skills set.
In its latest "Future of work" survey, titled "The global talent crunch" the recruiter points to major commercial crisis amounting to a global talent deficit by 2030 greater than the current population of Germany.
Locally, according to Korn Ferry's national report, Australia is already facing a talent crunch, with a deficit of high-skilled tertiary educated candidates reaching 739,000 by 2020, increasing at an annual rate of 11.3% to 2.2 million by 2030.
Perhaps more worryingly, a similar deficit is forecasted for mid-skilled workers (those with upper level secondary education).
The potential consequences are severe. By 2030, Australia could lose out on US$587.56 billion that will not be generated due to talent shortages, and the national economy could fail to grow by more than 25%.
More specifically, the report predicts that Australia will fail to generate $26.63 billion from its manufacturing sector.
And the phenomenon is starting to bite. Skilled labour shortages are already emerging in some technician, trade worker and professional occupations, especially within the STEM area. "The number of job advertisements for engineering and IT skills continues to increase, intensifying the competition for highly skilled talent," says Andrew Lafontaine, Strategy Execution & Digital Solutions, Korn Ferry.
The global report points out that there is no point looking to our near neighbours for help either. It predicts labour skills shortage of 47 million and unrealised output of $4.238 trillion for the Asia Pacific region as a whole.
While the underlying message from "The global talent crunch" is the necessity for nations to up-skill their workforces through education, there is a message to employers on way to mitigate the effects.
The report concludes that: "Organisations can minimise the effect of the talent crunch by understanding future workforce demand - the critical roles and skills they will need to meet both short and long-term business objectives. "