Published 14-04-2020
| Article appears in April 2020 Issue
Foodmach to boost local mask production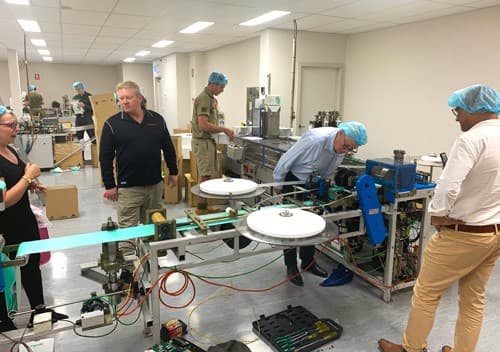 Packaging automation manufacturer and integrator Foodmach has stepped up to revive Australia's surgical mask industry in the midst of the COVID-19 crisis.
In a time when surgical masks are in desperately short supply, the Australian Government has called on companies able to handle the urgent worldwide demand for supplies.
Shepparton-based Med-Con, the only factory in Australia still producing masks, has been tasked with increasing production from 2 million to 50 million surgical masks annually. A decade of stiff competition from China, however, has left Med-Con with just five per cent of the Australian mask market, and only two of its three mask-making machines operational.
These machines were designed nearly four decades ago, and the original schematics are lost.
With time of the essence, the non-functioning machine was disassembled and modelled by Australian Defence Force engineers in the hope it could be reverse engineered in time to meet the challenge.
Ultimately Foodmach, with its strong experience, capabilities and resources has won the contract to engineer and manufacture three new mask-making machines - but the clock is ticking.
"We have 60 days from start to finish," said Foodmach director Peter Marks, "to find ways to build a machine that uses parts which have long been obsolete."
The ADF has supplied Foodmach with 3D models of the parts in question, but that's just the beginning of the process.
"These still need to be detailed on a part-by-part basis, materials identified and checks made that they'll assemble correctly," he said.
"The old design will also need to be updated to current safety, controls and interfacing standards."
Foodmach's Echuca factory and machine shop space provides 6,600 square metres for its team of 100 skilled staff to adhere to social distancing requirements while they work around the clock.
The team will work in shifts 24 hours a day for the next eight weeks to meet the critical deadline.
"Keeping our workforce safe and productive in an epidemic that has the potential to threaten 40-70 per cent of the Australian population is clearly a high priority for us," said Foodmach CEO Earle Roberts.
"The complexity of the Med-Con machines will provide us with an exciting challenge. We've obviously never built one before, but with all the necessary design, manufacture and assembly expertise under a single roof, we're well equipped for it."
A public log of project updates is available on Foodmach's website.