FOOD MANUFACTURING SAFETY GUIDE USES AUGMENTED REALITY
07-12-2016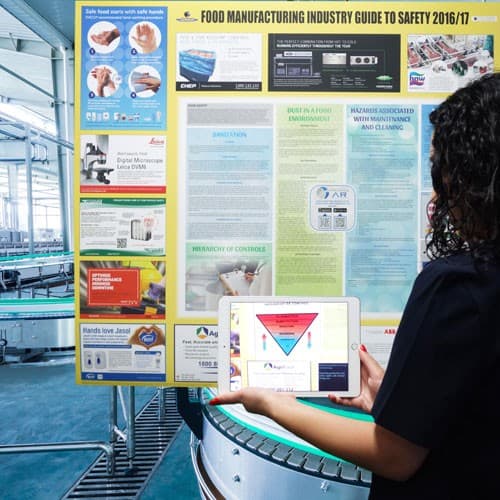 Available now from Pro-Visual Publishing, the new 2016/17 edition of the Food Manufacturing Industry Guide to Safety covers all the latest health and safety topics, and now includes interactive augmented reality (AR) capabilities.
The poster, which has been produced in partnership with Food Standards Australia New Zealand and Australian Food Microbiology, will be an informative addition to any food manufacturing, handling or processing plant.
The augmented reality content enables increased interaction and creates a portal for more information and resources relevant for the food manufacturing industry. The user simply scans any of the AR capable content using the free Pro-Vis AR app and can then instantly download relevant content to their smart device.
The guide is available free of charge. It covers a wide range of topics from product recall procedures to machine access, cleaning and deactivation safety.
Noncompliance with food manufacturing industry safety standards is reckoned to be a major contributory factor to as many as three deaths per fortnight and 11,500 illnesses per day in Australia. The guide addresses this by helping manufacturers to implement control measures and successful health and safety practices.
Pro-Visual Publishing
02 8272 2611
www.provisual.com.au