FOOD INDUSTRY FOCUS FOR WRAPAROUND CASE PACKER
29-06-2017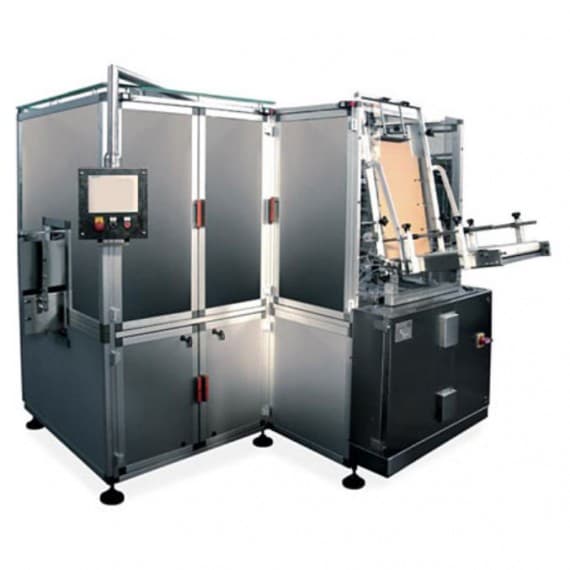 Kockums Bulk Systems has been providing high-volume high-speed automatic bagging systems for well over 15 years, and visitors to foodpro stand E56 will be able to see several examples of these systems in action.
However, more recently, the company has expanded its range of offerings to include secondary packaging lines comprising systems from international partners TMG and IAS.
These new packaging systems include: wrap around packers; pick and place robotic packers; carton and tray erectors; carton closers; tray, pad, and film shrink wrappers; multi-packers for continuous packing of bottles, jars, pots and similar products; and palletisers.
The centrepiece of the new Kockums range is the IWA wraparound case packer, an intermittent motion machine that can be used to pack pouches, bags, bottles, jars, cans, and boxes into single- or double-faced shelf-ready cartons.
Already proving popular in the food and beverage industry, wraparound packaging systems are typically faster than the equivalent RSC style packers, and the cases save materials by using less cardboard than an equivalent RSC case.
The wraparound case is strong and offers a tight product fit which results in increased column stability and better use of pallet space. And there is no need for a separate case erector and closer.
The IWA machine comes with a custom designed product infeed system for the exact application, and can be specified with a dual infeed system to suit for two different products.
Like all Kockums machinery, the IWA wraparound case packer is supported by the company's partnership programme, which allows customers to select the most appropriate level of support to suit their own operational capabilities.
Partnership services include operator and maintenance training, regular scheduled preventive maintenance, remote assistance, spare parts, and breakdown support as required.
The company's engineers are fully trained on all the machines it supplies and Kockums' aim is to have the ability to solve 90% of all issues without contacting the OEM.
Kockums Bulk Systems
03 9999 0510
www.kockumsbulk.com.au