FOOD GRADE PLASTICS ENTER MATERIALS HANDLING MARKET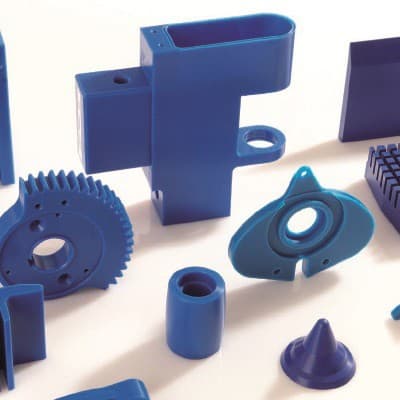 Engineered plastics have been making strong headway into food and beverage production, processing and packaging markets because they are light, tough, low-friction and harmonise well with automation and rapid washdown needs to achieve efficiencies while maintaining hygiene and safety standards.
But – just like metals – not all plastics are right for all tasks, says engineered thermoplastics authority Laurie Green of Cut To Size Plastics. "It is one thing to know the relevant Australian and New Zealand Code and the guiding principles contained in AS2070-1999, but the onus still remains on the user of materials to ensure they are fit for purpose. This is a fast-changing field, and the devil can be in the detail," says Green, who, as Managing Director of Cut To Size, has seen more than 40 years of change and improvement in this specialised domain.
Green recently hosted global engineered plastics leader Wefapress to further strengthen Cut To Size's long association with the company, which is joining with Cut To Size to expand its food contact ranges in Australasia as well as its ranges of lining plastics for bulk materials handling applications such as food and beverage, truck liners, agricultural technology, bucket wheel excavators, rail cars, wheel loaders, belt scrapers, silos, trough chain conveyors and an extensive range of mining and dry goods processing applications.
Wefapress Managing Director Gerrit Beck and Senior Sales Manager Klaus Massfeller visited Cut To Size's Yennora facility recently to provide expert product training on the latest evolution of the globally proven Flex Cover range, an ultra-high-molecular-weight polyethylene (UHMWPE) engineered plastics that incorporates a number of advantages in order to prevent friction, wear and material flow problems common to bulk handling industries.
EU regulations
The Australasian and German companies also focused on food-contact products relevant to Australia and New Zealand producers and exporters because they comply with the highest global standards affecting this area, including major EU regulations on plastic production and processing in effect from 2011 that aim to eliminate the risk of the harmful effects caused by the migration of substances.
"As in Australasia, such substances can include colour pigments, separating agents and additives," says Green.
The interaction between foodstuffs and foreign substances can carry certain risks. In order to minimise these risks and prevent any possible contamination, the European Commission introduced a regulation in January 2011 on materials and objects made from plastics.
"Wefapress already considered these requirements essential," says Green. "A large proportion of the materials we offer for the food industry meet the guidelines of the EU regulation and are therefore classed as 'food secure'."
"The food and beverage and processing industries work in accordance with strict hygiene standards, which also apply to interactions with plastics. Plastics must be deemed physiologically harmless before they can come into contact with food.
This not only protects the health of the consumer, but also the composition of the food and its organoleptic properties," says Green.
The following individual provisions of framework Regulation (EC) No 1935/2004 are particularly relevant: EU Regulation No 10/2011 (PIM), which defines contact between plastic and foodstuffs. Such provisions are particularly relevant to Australian and New Zealand food and beverage companies seeking to select materials that conform with such standards.
Key points
A migration test is required for standard tests with food simulants, times and temperatures, which reflect real situations. The following elements are tested: OML (overall migration limit), maximum quantities a material is allowed to emit, as well as SML (specific migration limit), the maximum quantity of a substances that can enter into food.
The declaration of conformity contains information regarding food regulations and suitability guidelines on possible uses. The declaration is valid until a change is made to the material, consequently altering migration rates, or until new scientific knowledge is developed.
The material must be traceable throughout every stage of the value chain. Manufacture must be in accordance with Regulation (EC) No 2023/2006, also known as GMP (good manufacturing practice), which regulates quality system, quality system, quality control system and documentation.
EU Regulation No 10/2011 relates to the manufacturing of all food contact materials and applies to the entire supply chain including manufacturing, processing and distribution. The conformity of products and processes must be ensured and confirmed across all stages of production. The final distribution company is then able to issue the final declaration of conformity.
The list of raw and auxiliary materials defines the materials to use for production. Only monomers, additives auxiliary materials (eg drilling emulsion, cleaning agents) from the EU list (appendix one of EU Regulation No 10/2011) may be used in the manufacturing of food secure products.
"Wefapress uses only suitable raw materials when manufacturing semi-finished parts, components and other products intended for direct contact with food. Products labelled "Food Secure Product" conform to EU Regulation No 10/2011, and are highly relevant to Australian and New Zealand producers and exporters," says Green.
Food-safe products
Wefapress offers a wide range of food-safe products for applications in: mechanical and plant engineering; drinks and bottling; agriculture; food processing; conveyor systems and automation. And all these materials are available from Cut to Size Plastics.
Wefapress has been dealing with EU Regulation No 10/2011 on a regular basis since 2012. A large proportion of the company's material types made from polythene (PE-UHMW and PE-HMW) and other thermoplastics conform to the regulation. These products all carry the Wefapress FSP (Food Safe Product) label.
Wefapress and Cut To Size can also provide individual calculation of migration. "We are happy to provide advice on how to calculate migration. We can provide you with access to empirical data in the form of available test results to save you time and money," says Laurie Green.
Cut To Size Plastics
02 9681 0400
www.cuttosize.com.au