Published 01-06-2021
| Article appears in June 2021 Issue
Food compatibility among the many attributes of wear-resistant iglidur I151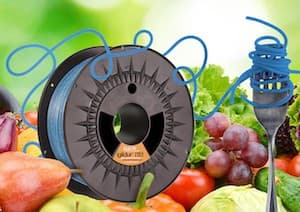 The new iglidur I151 tribo-filament is FDA-compliant and especially well-suited to food contact.
For cost-effective 3D printing of special parts, look no further than the blue, food-compatible tribo-filament from igus.
iglidur I151 prints easily, and has an optimal coefficient of friction and wear. The new tribo-filament is a refinement of the easy-to-machine igus iglidur I150 all-rounder filament. Because it is blue, it can be used to manufacture special parts that are optically detectable in the food industry.
Food compatibility according to the FDA and to EU Regulation 10/2011 also qualifies the high-performance polymer for use in the food and cosmetics industries.
igus has included iglidur I150, its all-rounder material, in its 3D printing materials range since 2017. The filament is very easy to use with conventional 3D printers. This allows special parts to be manufactured quickly and cost-effectively with the FDM process.
"Many customers, primarily from the food industry, have requested a blue, FDA-compliant filament with properties similar to those of iglidur I150. That is why we have now developed iglidur I151," says Tom Krause, Head of the igus GmbH Additive Manufacturing Business Unit.
The new tribo-filament is suitable for printing components with great wear resistance. Because the material is enriched with solid lubricants, no additional lubrication is necessary. This rules out any contamination hazard.
The printed components comply with the requirements of the FDA and of EU Regulation 10/2011, making them ideal for use in the food and cosmetics industries. The blue colour provides the required optical detectability. iglidur I151 can be used with any 3D printer that can be set to a nozzle temperature of 250 degrees Celsius.
Print food-compliant special parts yourself or order them from Treotham
iglidur I151 exhibits mechanical properties comparable to those of iglidur I150 with respect to stability, toughness and layer adhesion. iglidur I151 was also impressive in wear testing in igus' in-house test laboratory with a service life that is one hundred times that of such standard plastics as ABS and nylon.
The new filament can be ordered from Treotham as roll material. Users can also commission the igus 3D printing service to manufacture their wear-resistant special parts. Just contact Treotham to order the customised wear-resistant part.