Food & beverage industry hits the jackpot with high-tech robotics and conveyors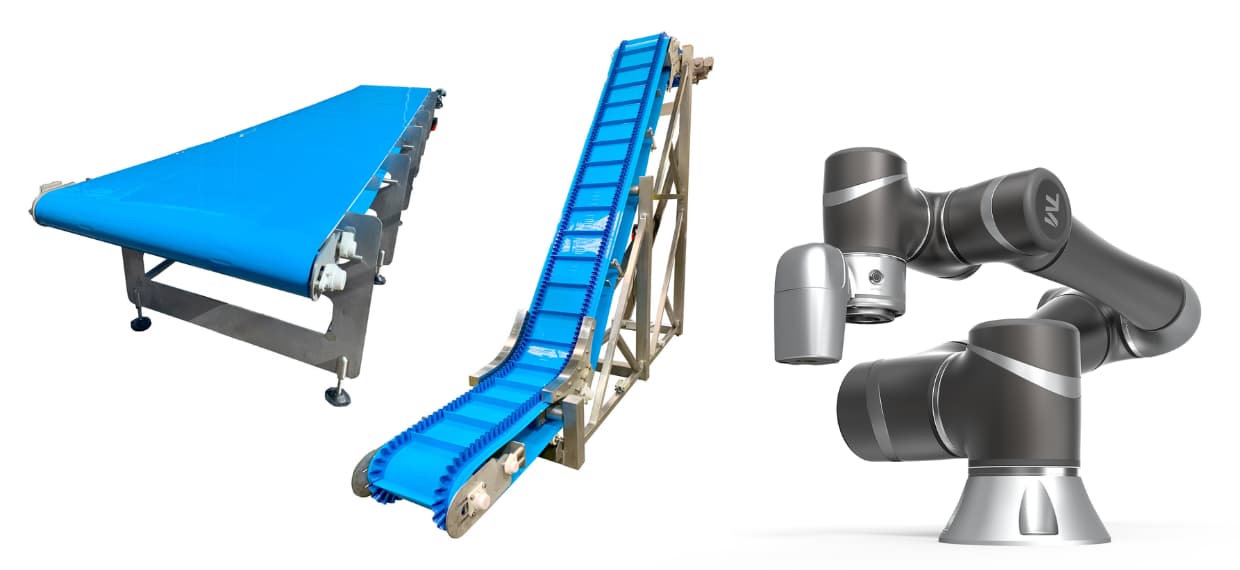 Conveyors for the raw and packaged food industries have been a core capability of the Australis Group of companies. 
Whether it is the wide range of raw meat, poultry and smallgoods handling conveyors designed and manufactured by Precision Stainless Systems in Brisbane or the smart, ultra-hygienic Hygenius Conveyor developed by Australis Engineering for raw foods and pharmaceuticals, the Australis Group have always had a longstanding record of delivering high quality conveying solutions for the raw foods and pharmaceuticals sectors.
This year at the FoodTech Qld event held on 7-8 July 2022 at the Gold Coast Convention and Exhibition Centre, Australis Engineering will showcase the Hygenius Conveyor at the stand of its chosen belting supplier – BMA Belting (Stand F21).
Hygenius is Australis' smart, hygienic-grade conveyor that is designed to comply with HACCP Standards for the Food, Pharmaceutical and MedTech industries. The exhibited model is a Hygenius conveyor with a Volta Belt that was recently exported to one of Australis' Malaysian clients and was also sold locally in Queensland for use in horticultural processes.
For the ultimate in hygienic grade conveyors, the Hygenius conveyor offers the highest standard of cleanliness. It is designed to meet European hygiene standards by utilising smart engineering to minimise surfaces where bacteria can accumulate, making cleaning expedient, simple and toolless.
Not every customer, however, will need a hygienic-grade conveyor. For many customers, a food-grade, stainless steel washdown conveyor would suffice. Precision Stainless System (Stand B16) will exhibit a modular belt, stainless steel conveyor that is wash-down rated and is ideal for many raw food, dairy, beverage and pharmaceutical applications.
Whether it is a food grade or a hygienic grade conveyor, both Precision Stainless Systems and Australis Engineering can fully customise a conveyor system to suit a client's product, available space and budget. With many options available, including inclines and declines, transfers, crossovers and full automation, the conveyors are Australian made in Sydney and Brisbane.
Additionally to exhibiting its top-of-the-range conveyor systems, Australis Engineering will showcase the Techman Robot – the second highest seller of collaborative robots in the world (Stand B16).
As the principal distributor of Techman Robots in Autralia, Australis offers the TM Series of cobots which include models with a 4kg, 5kg, 12kg and 14kg payload – with a 20kg payload option coming in Q3 2022. 
Unlike other mainstream cobot brands, Techman Robots have a fully integrated vision system – with both, the robot's hardware and software – included. This factory integrated vision system allows for a great magnitude of inherent flexibility for deployment across a wide range of applications such as palletising, pick and place, machine tending, inspection, welding and soldering. 
The vision system is also capable of scanning QR codes or bar codes, detecting colours and shapes and even reading text. Being a certified, collaborative robot, the TM Series of cobots are safe to deploy around people and other machines without requiring secondary safety systems, making them an ideal choice for low to medium speed repetitive tasks. As a result, they can assist businesses in overcoming labour shortages and cost escalations.
Precision Stainless Systems and Australis Engineering are member companies in the Australis Group that also includes Advance Conveyors and Profilium. The Australis Group is an Australian, family-owned group of businesses that have considerable conveying and robotics and automation experience and capabilities. First established in 1983, they bring smart thinking in quality, efficiency and automation to their clients.