FLYING TRANSPORT STARTUPS DOGFIGHT FOR SUCCESS
13-06-2016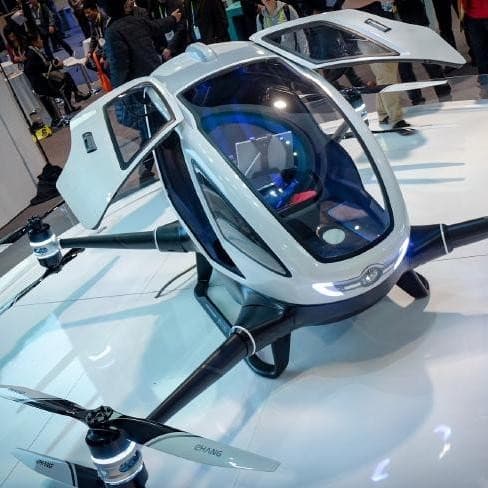 Prototype quadcoptor design from EHang's Las Vegas presentation.
A group of companies are reaching for the sky, each competing to get the first airworthy flying car before the others.
At least two of them are partially funded by the same person: Google co-founder Larry Page is the figure behind the hundred-million dollar funding figures that keep Zee.Aero and Kitty Hawk in business.
Zee.Aero and Kitty Hawk aren't working together, either: both companies are working in opposition, each hoping to produce the first commercially viable flying car.
Kitty Hawk is working on an up scaled version of the now-common quadcoptor design, while Zee.Aero have a more unconventional design in the works, sporting eight propellers and a more plane-like body shape.
Chinese company EHang is also in the picture, having unveiled an operational prototype of their 'human-carrying drone' quadcopter at CES 2016 in Las Vegas.
Coming up as a very viable contender is Terrafugia, who have flown a fully-realized prototype called Transition, with a stated range of 500 miles.
If all goes well, at least one of these companies will have a working commercial model available in the next decade, and (some of) our childhood dreams will finally be realized.