Flying through the air with the greatest of ease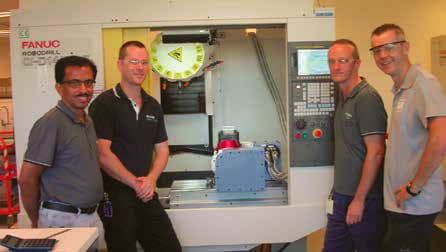 When ResMed, a leading developer, manufacturer and distributor of medical equipment, recently ordered machine tools for its Sydney headquarters, it also booked a crane to deliver them.
There's usually nothing unusual about the delivery of new technology to a company in Australia's large industrial infrastructure – but there was in this case.
The company's global headquarters and R&D facilities are on the first floor of the building. Therefore, it is not possible to install new machines by conventional methods.
So, when the company ordered two more Fanuc Robodrills from 600 Machine Tools, it booked a crane too.
The supplier, 600 Machine Tools, Australia's largest machine tool distributor, says the scene was reminiscent of "those daring young men on their flying trapeze."
These extremely accurate machines are required for the production of medical equipment that is used principally for overcoming the effects of a commonplace sleeping disorder called Sleep Apnea, also known as Obstructive Sleep Apnea (OSA).
The company's Lab Section Leader, Paul Wilkie explained: "If you have OSA, it means your upper airway temporarily closes while you sleep, causing you to stop breathing. These periods when breathing stops (called Apnea) can last for at least 10 seconds, and may happen up to a hundred times a night.
"This puts a strain on your body, raising blood-pressure and reducing your quality of sleep. These repeated Apneas reduce your oxygen levels, and this alerts your brain to wake the body to begin breathing again," he said.
ResMed is a global leader in the development, manufacturing, and marketing of innovative medical products for the treatment and management of respiratory disorders, with a focus on sleep-disordered breathing that have brought relief and a much higher quality of life to OSA sufferers in many countries.
Accuracy is paramount
The models of Fanuc Robodrill provided by 600 Machine Tools, part of the huge UK-based 600 Group, are capable of rapidly producing components of remarkable accuracy. This is an absolute necessity when, for example, reproducing the contours of a human face.
The Japanese company, Fanuc, produces the bulk of the controllers for machine tools.
Most of the world's best-known brands have a Fanuc control fitted as standard.
The world-renowned Robodrill is always the first machine tool to have any newly-introduced Fanuc control, and current models now have the very latest and most sophisticated control ever produced by the company.
The Robodrill D14LIAS supplied to ResMed has the very latest control. It includes "non-uniform rational basis spline" (NURBS), a mathematical model used in computer graphics for generating and representing curves and surfaces. It offers great flexibility and precision for handling analytic (surfaces defined by common mathematical formulae) and modelled shapes.
Engineering manager in NSW for 600 Machine Tools, Steve Drummond, said: "The software accelerates the processing to enable high-speed machining. Additionally, tool changes are achieved in .2 of a second, the machining table moves at 54m per minute, and the Robodrill has a spindle-speed of 24,000 rpm."
Elimination of polishing 
Speed is complemented by extreme accuracy. For example, components can be produced at virtually "nett finished shape" – there is no need to do polishing – a valuable time-saving in a busy workshop.
To enable the manufacture of complex shapes to high specifications, the standard Robodrill has three axes of movement. The machine acquired by ResMed also has a trunnion table that provides a fourth and fifth axis. The 4th axis allows spiral interpolation, while the fifth axis allows production of complex radius curves.
The second Robodrill is a space-saving 3-axis unit – it will fit through a standard house doorway – and has many of the features of its big brother. It is to be used mainly for development work and prototyping.
Speed and accuracy
"The two new Robodrills will add to our capacity, increasing productivity while enhancing ResMed's global reputation for high quality medical products, said Mr Wilkie. "The installation of the two machines went smoothly, and four of our highly-skilled operators participated in the commissioning process. There was little disruption to our workflow, and the new machines are already helping our workshop team to achieve faster set-ups, increase output, and meet tight delivery schedules."
The managing director of 600 Machine Tools in Australia, Cliff Purser, said: "Although I have been in the machine tool business for more than 30 years, I must confess to being surprised at the quality of finish that can be achieved with the combination of the Robodrill D14L and the very latest Fanuc control.
"Every workshop manager in Australia is acutely aware that time is money, and the family of Robodrill models, hitched to a 'Star Wars' controller, holds out the prospect of faster throughput without any sacrifice of accuracy, and significantly better quality of finish – perhaps eliminating further processing steps, such as polishing.
"All things considered, this is a combination that could mark a watershed point in the development of economic precision-engineering in Australia."
600 Machine Tools
Ph: 02 9674 4738