FLYING CAR GRANTED PERMISSION TO FLY IN US AIRSPACE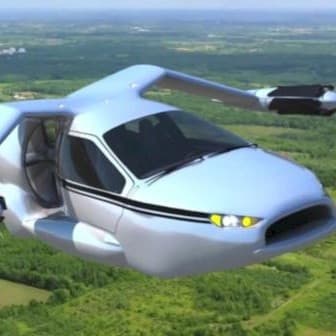 Back in 2013, Terrafugia, a small aircraft company first announced their TF-X flying car, now a few years later they have announced that they have upgraded prototype.
The Massachusetts-based aircraft company has gone the next step by being granted special permission by US Federal Aviation Administration (FAA) to run test flights with a drone version of the flying car.
Although just a tenth of the size of the actual car, and unmanned, the test flight of the new prototype is expected to fast track the researched and development phase of the car.
The test model will be allowed to reach altitudes of 121 metres and speeds of 160km/h. the company is allowed to fly in US airspace around the country but must be in constant communication with relevant authorities.
"Extensive sub-scale flight testing of sUAS [small Unmanned Aircraft Systems], along with wind tunnel testing and aerodynamic simulation, are key to refining the vehicle's design," Terrafugia said in a press statement.
These tests will be crucial for the development of the full scale car due to the cares unique engineering.
The car will have wings that will fold out, and twin electric motors pods on the ends that will power and lift the car off the ground using 1 megawatt of power. Two small helicopter-style propellers will provide thrust when needed, and are then folded back in when the car is cruising.
The Aero News Network reports that these tests are a crucial component to the complete of a full-scale produce.
"Because of the unconventional configuration of the TF-X, it is vital to achieve sustained, stabilised hovering with smaller models before developing a full-size TF-X prototype," they report.
If the model is a success and is allowed for consumer use it is expected to reach speeds of 322 km/h with a 805 km flight range, it will require no runway to take off and land.
The car will be a four-passenger hybrid vehicle that will have rechargeable batteries and can be charged by the engine or by electric car charging stations. With the computer operated flying capabilities, you will not need to be a pilot to drive one.
Terrafugia says it's looking at eight to 12 years of development for their flying car.