FLOW CHEMISTRY MADE AVAILABLE TO LOCAL MANUFACTURERS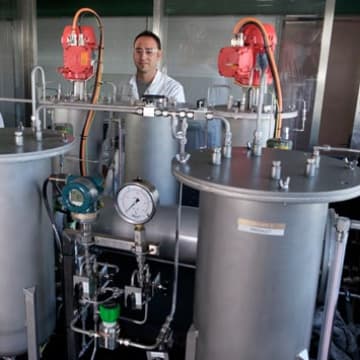 Construction has commenced on a new $8 million Centre for Industrial Flow Chemistry at the CSIRO's Normanby Road, Clayton site.
The purpose-built, 410m2 state-of-the-art facility will provide local manufacturers access to CSIRO's flow chemistry technology.
CSIRO is a world leader in flow chemistry, which offers a cleaner, faster, more efficient and cost effective way to make chemicals.
Incorporating all of CSIRO's flow chemistry equipment, the centre's capabilities will range from small-scale discovery tools to large-scale industrial reactors.
Services will include process research and development operations for industrial clients, technology transfer to commercial manufacture, in-house training for industrial collaborators and innovative research on new process technology for chemical manufacture.
Early adopter of flow chemistry, local businessman Zoran Manev, worked with CSIRO's FloWorks team to integrate flow chemistry into his operations.
Manev's Noble Park chemical manufacturing plant, Boron Molecular, supplies fine chemicals to the Australian and international pharmaceutical and materials sector.
Manev said flow chemistry enables his plant to make purer molecules with fewer side products and fewer issues when scaling up to manufacture from small scale to larger tonne lots.
"With flow we're using far less solvents and energy and discarding far less waste material into the environment than we would otherwise," he said.
Director of the new FloWorks Centre, Dr Christian Hornung, said the new facility will offer a unique, complete package to chemical manufacturers all the way through development - from early discovery stages to industrial scale-up and tech transfer.
"The new collaborative space will generate greater engagement with industry and other research bodies," Dr Hornung said.
"I see flow technology eventually being taken up by chemical manufacturers in all areas," he said.
Construction of the facility is being undertaken by Monaco and Hickey, and is due for completion by November 2018