Floorsafe safety tread a tower of strength
31-08-2010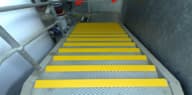 Smart step … R-MN Safety Tread anti-slip stair nosings from Floorsafe
When commercial building company Hansen Yuncken was looking for a safety solution for external steps at the new Adelaide Control Tower project it approached experts Floorsafe International for advice.
Floorsafe International supplied and installed R-MN Safety Tread anti-slip stair nosings to all of the external steps at the new project.
Requiring a tough, long-wearing product manufactured to the required size and colour, the RMN safety treads are completely anti-slip safe and chemical resistant. 
That's why companies such as Shell, Esso, Qantas, Origin Energy, Thiess Black, Power & Water and many manufacturers are using this product to overcome OH&S safety issues on steps and stairways. 
For the past 25 years, the Floorsafe brand of safety products has become well known to architects, builders and contractors throughout Australia. 
They RMN safety treads are available in three standard sizes or can be supplied custom made in any length or width. Countersunk holes can also be provided on request.  
Manufactured from 1.6mm Galvanised metal, aluminium or stainless steel, the plate is firstly prepared with a special primer coat. 
After drying three coloured coats of chemical resistant 2-part polyurethane is then applied. During the process an aluminium oxide granule is incorporated which provides both the anti-slip and the extreme hardness of the finished product. 
Although safety yellow is the most popular colour any Australian standard colour can be provided at no additional cost.    
Test reports shows that the product exceeds the AS/NZS 4586:2004 and exceeds the recommendations of HB-197 for external stairs.
Floorsafe International prides itself on quality and outstanding customer service.
Floorsafe also has a large range of aluminium stair nosings, anti-slip tapes, cable covers, reflective & floor marking tapes and paint.
Floorsafe International
Ph: 1300 717 769