Floorsafe makes a splash in bathtub safety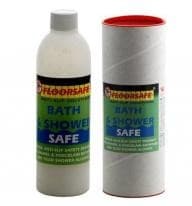 In the early '80s Floorsafe International developed and manufactured a unique anti-slip product, Bath & Shower Safe. 
Its ability to perform anti-slip effectiveness was tested and proven in 1983 by the Adelaide Hilton hotel. 
Now, 28 years later the hotel wants to maintain its safety record and the treatment is now being reapplied to 397 enamel and porcelain bathtubs. 
Extreme testing was undertaken in 1982 because at that time showers had to be taken by standing inside the enamel/porcelain bathtub.  
The main concern was that the surface would remain slippery when soap flowed under a person's feet. 
But after rigorous testing it was found that the Floorsafe Bath & Shower Safe gave complete anti-slip effectiveness even under soapy and wet conditions. 
Floorsafe Bath & Shower Safe has stood the test of time.
This quality Australian-made product is an ideal solution for hotels, motels, hospitality and healthcare sectors.
With this treatment, no special pre-cleaning is required.
And because the treatment takes less than five minutes to complete, there is no need to close off the room.
The surface appearance remains unchanged to the naked eye. On-going cleaning is carried out normally.    
Floorsafe International manufacturers its DIY anti-slip treatments at its Adelaide head-office.
The company distributes a broad range of quality safety products including stair treads, anti-slip self-adhesive tapes and mats, reflective tapes, floor marking tapes, tactile indicators and cable covers throughout Australasia.  
Floorsafe International
Ph: 1300 71 77 69