FLIR UNVEILS NEW THERMAL IMAGING DIGITAL MULTIMETER
17-05-2016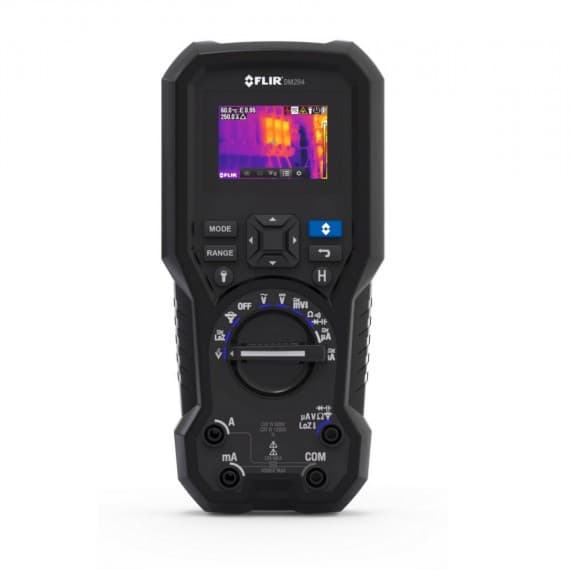 FLIR Systems has launched the FLIR DM284, an all-in-one digital multimeter equipped with a built-in thermal imager powered by FLIR's Lepton® thermal micro-camera core.
The FLIR DM284 is the newest test and measurement instrument to feature FLIR's Infrared Guided Measurement (IGM) technology that helps guide professionals to potential problems by clearly visualizing temperature differences.
Differentiated from standard multimeters, the DM284 combines an 18-function industrial True RMS digital multimeter with FLIR's groundbreaking IGM technology. With IGM, the DM284 helps guide electrical professionals with thermal imaging to the precise location of temperature anomalies and potential problems.
For instance, when facing cluttered wires or scanning complex electrical panels for issues, FLIR's Lepton-based camera helps users pinpoint potential hazards without requiring any direct contact with the test site.
Once an issue is observed using IGM, the DM284's current, voltage and other advanced functions can be used to accurately diagnose equipment problems. This combination of capabilities also reduces the number of tools electricians need to carry.
"FLIR's advanced DM284 digital multimeter with IGM gives users the power to inspect, identify, and avoid major electrical issues like never before," said Andy Teich, President and CEO of FLIR.
"Our IGM technology has proven vital to professionals and we are excited to expand the IGM product family to offer electricians a broad set of tools to more efficiently and effectively troubleshoot issues."
The FLIR DM284 will be available later this year through FLIR distributors.
To learn more visit: www.flir.com/DM284
FLIR Systems
Ph: 1300 729 987