FLIR unveils new line of test & measurement tools
15-02-2010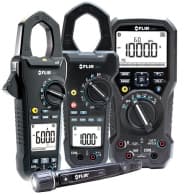 FLIR Systems, a world leader in thermal imaging technology, has launched a new line of test and measurement equipment.
The new T&M tools were engineered from the ground up to include world-class capabilities – advanced diagnostics, enhanced productivity, and increased connectivity.
The range includes three new electrical meters – the FLIR DM93, FLIR CM83, and FLIR CM78. All feature large/clear LCD displays, bright dual-LED worklights to illuminate dimly lit work areas, Bluetooth connectivity to Android and Apple mobile devices running the latest FLIR Tools Mobile app, and the ability to connect with METERLiNK-enabled FLIR thermal cameras so that users can embed electrical readings into their thermal images.
Other equipment includes the FLIR VP50, a compact, CAT IV-rated NCV detector, the FLIR MR77, a new moisture meter and the FLIR VS70, a new HD videoscope.
The FLIR VP50 has a powerful LED light for illuminating dimly lit areas, along with a dual-LED convenience light at the probe tip. Other features include vibration feedback and multi-colored LED alarms for inspections in noisy areas, and high/low sensitivity works with industrial equipment and low-voltage systems.
The FLIR MR77 is a rugged moisture meter incorporating a pinless sensor and a wired pin probe to capture moisture readings up to 0.75" below the surface of various building materials, a spot IR thermometer with laser pointer, field-replaceable temperature/humidity sensor, Bluetooth connectivity to Android devices, and compatibility to METERLiNK-enabled FLIR IR cameras.
The FLIR VS70 is a rugged videoscope with intuitive handset controls that let users maneuver the narrow camera probe into tight areas to deliver clear video and images to a large 5.7" color LCD display. The FLIR VS70 features wide-angle 180-degree and standard 90-degree camera views, SD card storage of video, image and audio files, a six-to-eight hour battery life, USB port for convenient battery charging, and the headset allows for voice annotations during inspections to clarify findings.