Flir thermal imaging used to keep deer in check
31-08-2010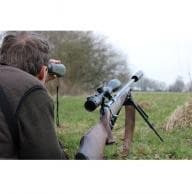 Australia is not alone in trying to control its feral animals.
In the UK, it is estimated there is a need to cull at least 500,000 deer every year to keep the national herd healthy, minimise death by starvation, disease and traffic collisions.
County Deer Stalking was formed by Peter Jones who is a professional Deer Stalker in the South East of England. 
Jones manages the deer over a variety of beautiful countryside locations in Hampshire, Surrey and Sussex; counties which have large populations of Fallow, Roe and Muntjac Deer.
As a professional stalker he has all the relevant Deer Management Qualifications (DMQ) and is a DMQ Approved Witness for the British Deer Society and British Association for Shooting and Conservation. 
Besides managing deer over around 2000 acres, County Deer Stalking also offers accompanied Deer Stalking of wild, free-ranging deer to both the beginner and experienced hunter. 
Typically the standard equipment for deer stalkers is a rifle with telescopic sight, a pair of binoculars and a knife. "For the last two years I heard and read more and more about using thermal imaging cameras for outdoor applications," says Peter Jones. "I was really keen to get my hands on one to find out how I could use this technology during stalks." 
Never having used any type of night or thermal vision before, Peter was presented the opportunity to add a FLIR Scout PS-32 to his kit of equipment. 
FLIR Scout PS-Series are the smallest and most affordable thermal imaging cameras in its class. 
They are equipped with an uncooled, maintenance free, microbolometer detector which delivers crisp thermal images in any day or night situation. 
The FLIR Scout PS-32 produces thermal images of 320 x 240 pixels. Users who do not need this high resolution can choose the PS-24 which produces images of 240 x 180 pixels. All cameras are equipped with advanced internal camera software that delivers a crisp image without the need for user adjustments.
Despite using the FLIR Scout PS-32 for only a short while, Peter soon discovered the advantages of using thermal imaging in his profession. 
"With the pressures of hunting, deer have become increasingly nocturnal, which makes the night ideal for counting deer numbers," he explains. "Usually counting is done in the early morning or late in the evening, but with the use of a thermal imaging camera this can now be done at night, providing more accurate records." 
FLIR SYSTEMS Australia Pty Ltd 
Ph: 1300 729 987