FLIR MAKES SMART PHONES EVEN SMARTER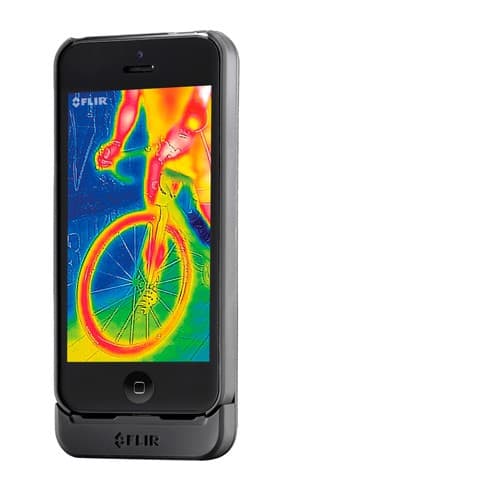 With the new FLIR ONE you can now take thermal images using an iPhone.
FLIR ONE for iPhone5 and 5s fits on the phone like a protective case.
It displays a live thermal image of the world around you on the phone's screen and captures still images and videos.
Weighing just 110g FLIR ONE provides enhanced thermal images with sharp detail. It has the ability to see what the naked eye can't, providing a thermal image of minute temperature differences.
This gives users the power to see in the dark, observe invisible heat sources, compare relative temperatures and see through light fog and smoke.
Using both a Lepton thermal camera and a standard camera, FLIR ONE features FLIR's patented MSX technology.
And by downloading the FLIR ONE App, available free on the Apple App Store, users have access to a variety of functions, making it easy to collect and share compelling and useful thermal images.
It can load captured images directly to the camera roll and allows users to easily share on Facebook, Twitter, Instagram and other social media channels, among many other features.
What can it be used for?
With FLIR ONE when you look around a room in your home you can see where doors and windows are not well insulated. You might see a wall switch is slightly warm that could indicate a pending problem or overloaded circuit.
With a range of about 30m, you can also see the heat signature of a person.
FLIR ONE houses its own battery source that can power the device for about two hours of continuous use.
Available for less than $350, FLIR ONE is the first personal thermal imaging device for the iPhone.
FLIR ONE will be available for select Android models later this year.
See the resolution for yourself at: www.FLIR.com/FLIRONE