FLIR LAUNCHES NEW THERMAL IMAGE FIREFIGHTING CAMERA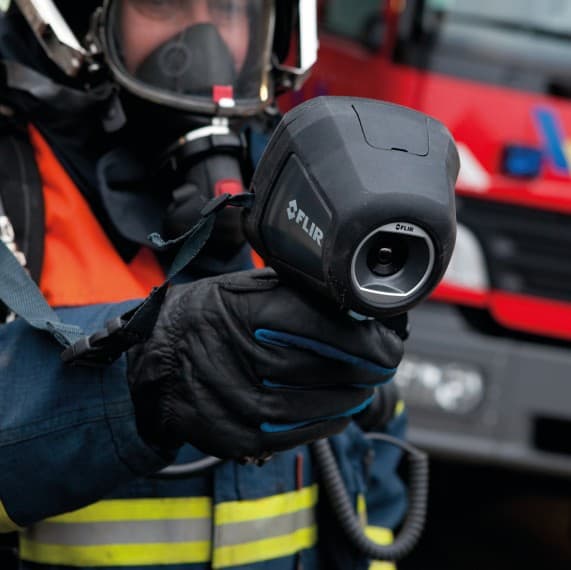 FLIR Systems has added the new FLIR K55 to its suite of thermal imaging firefighting cameras.
The K55 incorporates FLIR's Flexible Scene Enhancement (FSX) technology, which produces ultra-crisp thermal imagery.
It is also equipped with on-board video recording, ideal for evidence gathering and training purposes.
The newest member of FLIR's K-Series family allows firefighters to see even better in total darkness or in smoke-filled rooms.
The K55 with FSX displays its ultra-sharp 320x 240 pixel thermal images on a large bright 4" LCD display, allowing firefights to navigate safely and make accurate decisions when attacking fires and searching for victims.
Image details like edges and corners are enhanced and combined with the original image to create an image with more detail than ever.
The FLIR K55 also has on-board video recording, making it an excellent tool for documenting what happens inside the fire and providing a valuable training aid for later review. 
The K55 also features onboard image storage for up to 200 thermal JPEGs, which can be reviewed later from the camera's archive or exported via USB for reports.
The K55's intuitive and simple three-button user interface lets the firefighter access all of the camera's controls, even while wearing heavy gloves.
Different colour modes allow the firefighter to adapt the FLIR K55 to the most demanding situation.
The K-Series is also designed to operate in tough operating conditions; it withstands a drop from 2 meters on a concrete floor, is water resistant (IP67), and fully operational up to +260°C / +500°F. 
Visit www.flir.com/FIRE for more information.
FLIR Systems Australia Pty Ltd
Ph: 03 9550 2800