FLIR launches new thermal camera for firefighting
31-08-2010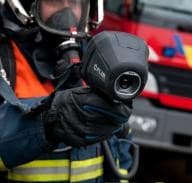 Thermal imaging cameras are finding their way into more and more industries. 
FLIR Systems, a world leader in thermal imaging cameras, has developed a thermal imaging camera specifically tailored for firefighters.
Not only do thermal imaging cameras produce a crisp image in total darkness, they also have the ability to see through smoke.
This assists firefighters to find people in smoke-filled rooms, as well as helping them navigate their own way in through smoky environments. They help save the lives of both firefighters and those caught in a fire. Thanks to the ability of thermal imaging cameras to measure temperatures, firefighters can ascertain whether a fire is burning behind a wall or door. Being armed with this knowledge helps them to avoid dangerous backdrafts. 
These cameras also allow the user to find hotspots in extinguished fires. Imperceptible to the naked eye, hotspots need attention in order to prevent a fire from reigniting. Thermal imaging cameras are an instrumental tool in ascertaining whether a structure is safe to re-enter once a fire has been extinguished.  
Thermal imaging cameras can also be used for other forms of search and rescue missions in which firefighters and emergency services are often involved.  The FLIR K-Series is designed to meet tough operating conditions. It withstands a drop from 2m onto a concrete floor, is water resistant to IP67 and fully operational up to +85°C.  The FLIR K-Series is controlled by just three large buttons on top of the unit, making it ideal for a gloved hand. Thermal images can be stored on the FLIR K-Series camera to be later used to produce simple reports of what happened at the scene.  FLIR Systems offers a full 2 years of warranty on the FLIR K40 and FLIR K50. 
FLIR Systems Australia Pty Ltd  
Ph: 1300 729 987