FLIR launches new premium handheld thermography cameras
01-05-2014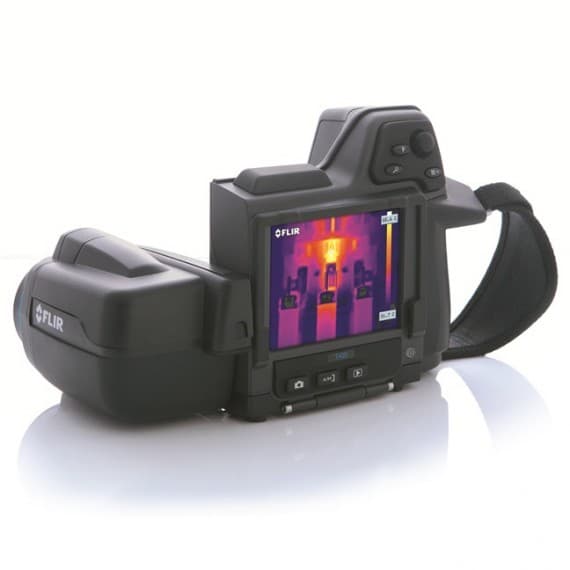 FLIR, a global leader in thermal imaging, has launched a new range of handheld thermography cameras to help streamline thermal inspections.
The new T-Series cameras are ideal for intensive electrical, mechanical and utility predictive maintenance programs.
The line-up includes the updated T420 and T440 with 320x240 thermal resolution, and the feature-rich T620 and T640, both of which offer FLIR's best handheld thermal detector resolution at 640x480 (307,200) pixels.
Every model includes FLIR's patented MSX, enhancement that highlights thermal images with key visible details in real time for easier recognition.
Flexible ergonomics, fast communication from the field and a holistic thermal imaging solution for greater workflow efficiency set these T-Series cameras apart.
A major advantage is FLIR's unique rotating optical block that allows users to easily aim overhead, under equipment and from other tough angles while keeping the large LCD in comfortable view.
And to help reduce fatigue, the new T-Series cameras include Auto-Orientation which automatically keeps onscreen temperature measurement data upright for easier viewing whether the camera is framed for landscape or portrait imaging.
FLIR has further simplified T-Series' touchscreen tools, making it simple to access menus, add temperature measurement spot meters and area boxes, change colour palettes, set parameters, and switch imaging modes.
Using the free FLIR Tools Mobile app, thermographers can import, analyse and share images and reports immediately directly from the inspection site. In addition, the app can stream live video to nearby devices for safer monitoring.
Wireless connectivity also extends to FLIR MeterLink test instruments that can send readings directly to T-Series cameras via Bluetooth, automatically embedding electrical load and other critical data into radiometric thermal images as they're captured.
For more information or to view a live demonstration, visit: www.flir.com/thermography
FLIR Systems Australia Pty Ltd
Ph: 1300 729 987
www.flir.com.au