FLIR IR windows: safest way to avoid arc flash
31-08-2010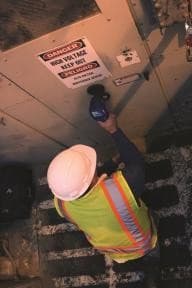 Rigorously tested … FLIR IR Windows
FLIR Systems, a leader in infrared technology, says independent authorities have rigorously tested all components of its new IR window range before being released.
FLIR IR windows are tested to international safety standards for enclosures that house dangerous electrical and mechanical parts.  
This includes:
Testing the seals when installed on a flat panel
Ensuring that mechanical forces (vibration, impact, and load) don't enable access to live electrical components
Testing the strength of the installation system
Testing frame integrity during common equipment failures (arc flash, mechanical breakdown)
Effect of climate on frame and seals
Long-term integrity of frame and seals
According to FLIR its IR windows meet end application safety requirements for medium and high voltage switchgear (above 600V).  
FLIR says opening electrical cabinets to perform IR and visual inspections of live components is dangerous work, exposing technicians to the risk of a hazardous arc flash incident. 
Now you can put the added safety of new FLIR IR Windows between you and energized equipment and eliminate the need for opening enclosures. FLIR IR Windows is compatible for all thermal cameras.
Easy to install and use, FLIR IR Windows helps you work faster with greater confidence.
You can perform inspections more efficiently, reduce the threat of arc flash injury and stay within compliance regulations.
All FLIR IR Windows feature a secure, permanently-hinged cover that opens easily with one hand, which means there's nothing to remove, drop or lose. 
FLIR's broadband crystal lens allows cameras to capture visible light pictures as well as thermal images. It also allows LED and laser illumination to pass straight through for clearer visual assessments.
Combine FLIR IR Windows with a FLIR thermal camera that features integrated visible light video, lamps, and a laser pointer and you'll be able to get the job done single-handedly.
FLIR SYSTEMS Australia Pty Ltd 
Ph: 03 9550 2800