Flexpicker delivers speed and accuracy
30-07-2013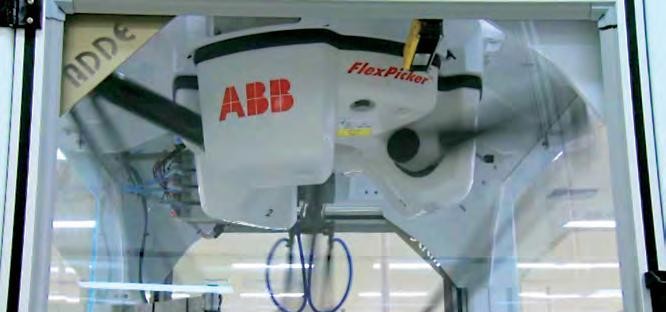 For high-speed parallel arm pick-and-place applications it is hard to go past the IRB 360 FlexPicker from ABB.
The combination of ABB PickMaster software, IRC5 robot controller and FlexPicker makes a powerful robotic system that can significantly improve productivity and flexibility in numerous packing operations.
When engineers at a Melbourne pharmaceutical plant needed to increase production and throughput on the blowfill-seal packing line they chose the ABB FlexPicker robot. It is now an essential piece of an expanded packaging line that packages sterile liquids into blister packs.
The pharmaceutical plant's packing line includes a sterile section where bottles are blown, filled and sealed before they are moved into a non-sterile packaging area for further processing and labelling. Here, a vision system ensures the bottles are correctly labelled.
A robot picks up correctly labelled bottles and places them in blister packs, which are sealed, weighed, collated and bundled, ready for shipping.
The line moves fast and many precision actions are performed, so it was essential that any solution to increase line speed and throughput also guarantee the quality and integrity of the product, with a minimum of waste.
The pharmaceutical company hired Andrew Donald Design Engineering (ADDE) in Melbourne to do the design, build and installation.
"They helped with the selection of the robot, and then with the integration of that into the wider control system for the rest of the packaging line," said the plant's Capital Engineering manager, Simon Whitehead. "They made sure the installation was as smooth as possible, and that there's as little downtime on the line as possible."
For increased line speed to work, we needed a system that could "accurately and repeatedly put the product into the right part of the blister pack, every time," said Whitehead. "We also needed to be able to pick up the good product, dispose of any defects, and we needed a system that could repeatedly put those products into the right spots at the right time, at our increasing speeds."
ADDE general manager, Barry Hendy, said a key part of the solution was finding a system that could correctly load the blister packs at high speed. "We initially looked at dedicated pneumatic transfer equipment, but realised that FlexPicker could do this with a lot more flexibility and speed, and really expand the capability of the line by introducing the accumulator shelf. This has allowed us to keep the blister packer running much more consistently and reliably."
ADDE is an ABB Authorised value provider, and has a lot of experience with ABB robots, so they were no strangers to the Flexpicker.
ABB Australia Pty Limited
Ph: 1300 782 527