FLEXOVIT PROUD TO WEAR THE GREEN AND GOLD
12-11-2014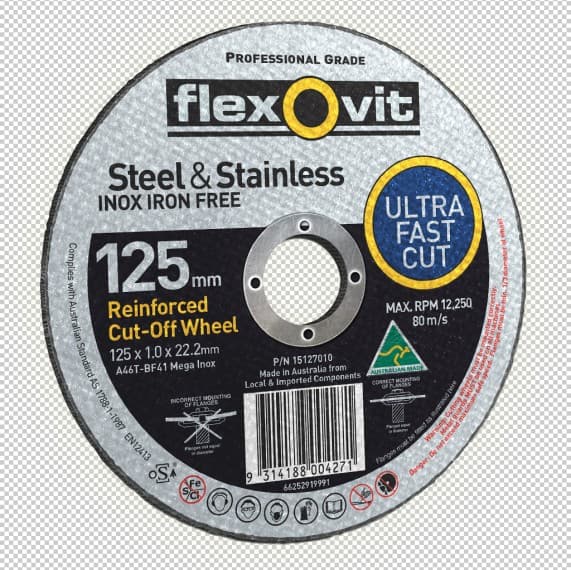 Making the decision to commit to the Australian Made Campaign was Flexovit's way of supporting manufacturers and opportunities for Australians.
Since 1978, when the first thin wheel was pressed in Melbourne, the Flexovit brand has grown to be Australia's favourite choice of professional cutting and grinding wheels. 
Part of Saint-Gobain, the world leader in the habitat and construction market, Flexovit's aim is to provide high performance abrasives solutions for industrial, trade, mining, automotive, aviation and the DIY markets.
The company remains dedicated to delivering to its customers continual improvements in safety, innovation and performance.
In use, wheels can reach speeds of 290km, so the personal safety of workers using abrasive cutting and grinding wheels is the primary concern of Saint-Gobain.
Flexovit abrasive wheels are developed, manufactured and safety tested in accordance to the highest standards. 
Processes and certification include Quality Managements systems ISO 9000:2008 Environmental Management AS/NZ ISO14001:2004. 
Flexovit products are made to the Australian and European safety standard. 
Saint-Gobain is also a founding member of oSa, a voluntary organisation for the abrasive industry which sets very strict rules governing processes and on-going product testing. 
Flexovit is proud to be associated with the green and gold Australian Made Campaign.
And the company encourages other Australian manufacturers and consumers to buy Australian Made.
By promoting and supporting the manufacturing and exporting of Australian Made Products they are also supporting Australian jobs.
The definition for Australian Made means that the product is substantially transformed in Australia and at least 50 per cent of the cost of production has been incurred in Australia.
The Freeman Brothers set the wheels in motion back in 1972 building an industrial
distribution centre for cutting and grinding wheels.
With only one press and three ovens Flexovit pressed it's first wheel in the autumn of September 1978 at Campbellfield, an outer Melbourne suburb.
Today, much has changed with safety, technology and growth but you can still find
Flexovit where it all began in Campbellfield.
Now 35 years later the plant is part of Saint-Gobain's global network, producing
world class products and investing in the future utilising the latest manufacturing
process and practices.
Flexovit has become Australia's wheel of choice.
Manufactured in Australia for the domestic market, Flexovit cutting and grinding wheels are exported to New Zealand, the Pacific and South East Asia.
Flexovit delivers product to a wide range of markets including industrial, mining, automotive, aviation, ship building, food industry, chemical, oil industries, trade and DIY.
And Saint-Gobain delivers high-tech and relevant abrasives solutions used extensively in the metal fabrication markets as well as other application in surface preparation and finishing.
Saint-Gobain is the only abrasives manufacturer who can supply the complete range of abrasives for any application including reinforced cutting and grinding wheels, bonded abrasives, flap discs, fibre discs, mounted points, tungsten carbide burrs, steel wire brushes and a range of surface blending abrasive
Saint-Gobain abrasives recently launched a new sales and marketing campaign throughout the Australia-Pacific region.
A new partnership with Australian Made Campaign Ltd will see its Thin Wheel product adopt the iconic Australian Made logo on all marketing material. 
Saint-Gobain
Ph: 03 9358 6100