FLEXIBLE STORAGE SOLUTIONS KEEP TOOLS ORGANISED AND SECURE
08-05-2017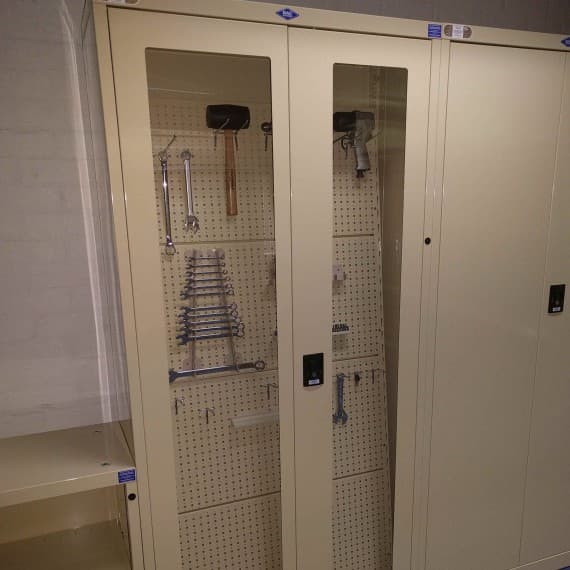 BAC Systems comes to NMW 2017 with two significant additions to its award-winning range of high-density storage solutions and industrial workshop furniture: the R Series Module and the BAC Wall Panel.
The new BAC R-Series modules are shallow lockable cabinets that can be used for shelving or shadowboard. Ideal for securing workshop assets while keeping them visible, these glass-fronted cabinets are just 395mm deep and 1010mm wide.
Their modular design allows multiple units to be combined to create a highly flexible lockable storage solution.
The BAC Wall Panel is a development from the company's very successful BAC Toolrack. Billed as the latest innovation in tool display storage, this steel toolrack comes with a huge range of toolbars, hooks and pegs, suitable for all types of tools from handtools to CNC tooling.
The options include a large number of new toolbars the company has created following extensive research into customer requirements.
"We are very excited about the BAC Wall Panel and its flexibility," says BAC Systems Sales Manager, Robert Griffin. "It can be mounted on walls, inside cabinets, on benchtops, or on an A-frame within a cabinet, offering workshop managers innumerable options for storing tools to maximise productivity."
Visitors to Stand 2630 at NMW2017 will also be able to see other Australian-made innovations from BAC Systems, including examples of the company's ever-popular BAC High Density Drawer Storage Module, billed as the best high-density storage solution for small parts available today.
BAC Systems
02 9832 2777
www.bacsystems.com.au