FLEXIBLE LED DOCK LIGHT AIDS PRODUCTIVITY, SAFETY AND ENERGY EFFICIENCY
19-03-2018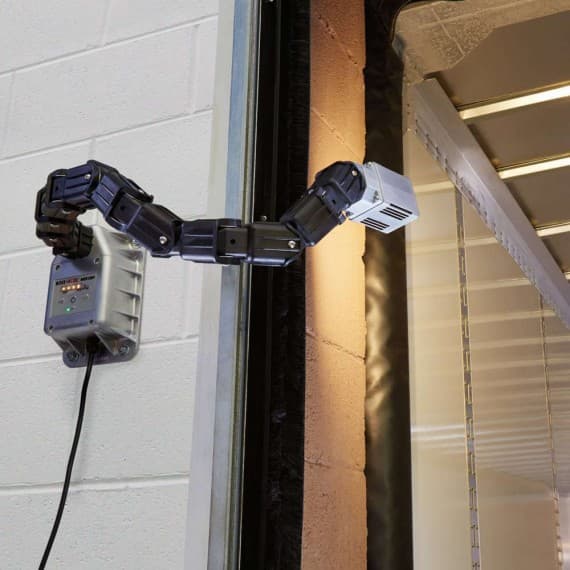 Arbon Equipment has a novel solution to lighting a trailer or container at the loading dock. The Rite-Lite Flex Neck LED dock light incorporates Flex Neck technology, which gives it unprecedented flexibility and adjustability.
"There has been very little innovation in LED dock lights since they were initially introduced," says Arbon General Manager Lee Lorenc. "We wanted to offer something new to the market that addresses the unique demands found at the loading dock."
The Flex Neck features a multi-articulating arm made from moulded nylon links. The links offer multiple bend points for increased flexibility at the loading dock. The bend points can be easily modified in the field to address unique needs, or to cope with obstructions that may be encountered at a dock opening.
The links can be tightened, if necessary, to eliminate the sagging that often occurs with traditional metal snake arms.
The Flex Neck LED dock light incorporates a variety of additional safety and energy-saving features. There are four different settings with visual indicators to clearly identify the current level of lighting, allowing users to select the desired level of light output. In addition, an optional motion-sensing auto-dimming feature senses when a forklift or person exits a trailer and automatically dims the light to reduce glare.
Finally, the light incorporates a dimming feature that recognises when the light has been on for more than 30 minutes, with no activity in the trailer, and automatically resets the light to its lowest setting. All these features help to reduce power consumption, while offering more lighting options for loading dock operators.
The Flex Neck LED dock light incorporates an impact-resistant cast-aluminium head designed to take incidental impacts from forklifts and overhead doors. The light uses CREE LEDs that consume just 18W of energy while outputting 950 lumens. The light is rated for 175,200 hours of service life.
"When it comes to flexibility, energy efficiency and lasting durability, the Flex Neck is the new standard in LED dock lights," says Lorenc.
Arbon Equipment
1800 1 ARBON (27266)
arbon.com.au