FLEXIBLE DRIVE SYSTEM GETS TROLLEYS ON THE MOVE
25-01-2018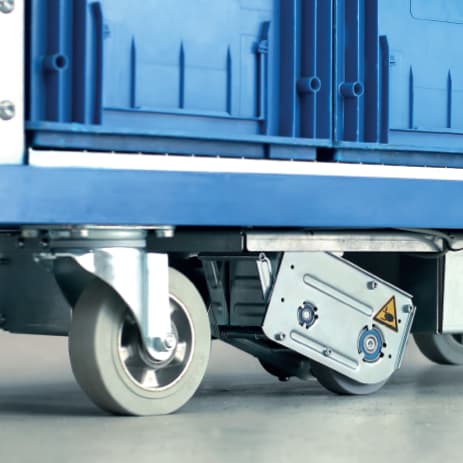 Tente has developed a novel solution for adding motive power to trolleys. The E-Drive Flex system can be retrofitted to most trolleys to provide starting assistance or as a permanent drive.
Suitable for almost any trolley or equipment fitted with castors, the E-Drive Flex comprises a single motorised wheel, a control box, a remote control, a battery and a charger. The system reduces the effort required to get heavy loads moving, improving manoeuvrability and operator safety.
When activated, the wheel is lowered to the ground to provide motive power. Once the load is in motion, the wheel can be raised and switched off to enable the trolley to freewheel, or it can be kept down and powered to provide continuous assistance.
If the battery runs out of charge, a manual lever is provided to raise the wheel so that the trolley remains mobile.
The ergonomically designed handle incorporates system and battery charge LED indicators, together with infinitely variable speed control (both forwards and reverse).
Tente Castors & Wheels
1300 836 831
tentecastorsandwheels.com.au