FLANGE-FACING MACHINES HANDLE LARGE-DIAMETER FLANGES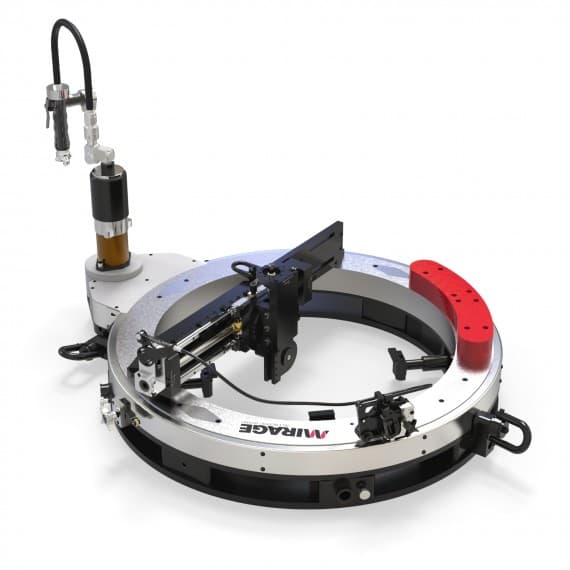 Enerpac has a new range of external-mount flange-facing machines designed for fast installation and accurate machining of large diameter flanges.
The new Mirage branded OD mount facers are ideal for machining 30 to 80in diameter flanges (762-2032mm) in industries such as oil and gas plant, offshore platforms, refineries, LNG, pipe spool, heavy industrial fabrication, shipbuilders, EPC contractors, industrial plant and power plants.
Other applications include facing heat exchanger flanges, maintenance projects, large flanges such as crane pedestals and flanges where bore mounting is not preferred.
According to Enerpac Channel and Product Leader – Australasia, Andrew Marsh, "The simple outside diameter (OD) mount configuration of the new machines overcomes industry reluctance to bolt ID mount flange facers to the inside of heat exchanger tubes."
Each of the six machines in the range includes a continuous variable auto-feed which enables on-site machinists to create a wide range of gramophone-surface finishes to ASME standards (regulating the design and construction of boilers and pressure vessels). Robust construction and the inclusion of heavy-duty bearings ensure all machines deliver high metal removal rates whilst delivering accurate results.
"These new products provide all of the versatility to carry out different flange facing projects you'd expect from an Enerpac product, but, when used for heat exchanger refurbishment, they go a step further. Convenience for the user has been taken to the next level by providing the clever ability to attach milling rails while the machine is still mounted in-situ," says Marsh.
This innovative feature makes it easier and quicker to machine heat exchanger division slots. Machining the back face of flanges can also be carried out using an optional back facing kit.
"The design team working on the project was given the challenge of creating a range of OD mount flange facers more robust and accurate than others on the market – and with speeding up the job time for machinists working on heat exchanger projects. The resulting products ticked all of the boxes and performed impressively," he adds.
Standard machines in the OD facer range are pneumatically powered, with hydraulic and electric versions also available. Providing these options ensures there is a machine available for many different and challenging working environments.
Other built-in advantages of the new OD facer range include quick-set radial clamping adjustment and adjustment jaws, and the ability to attach directly to the flange OD without the need for exchanger tubes.
Enerpac
02 8717 7200
www.enerpac.com