FLAMEPROOF ENCLOSURES TAKE A LIGHTER APPROACH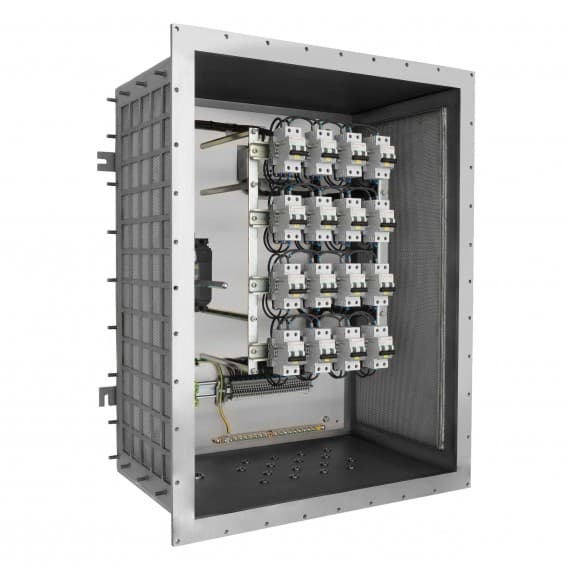 Stahl's novel Expressure technology aims to revolutionise the science of flameproof enclosures.
Conventional EX d certified enclosures need to withstand the pressure from an internal explosion. The resulting heavy-duty build requirements usually result in high costs, a large size to small function ratio, and are extremely weight, which adds additional installation complications.
EXpressure safely dissipates explosive pressure inside the enclosure outwards via flow channels in patented multi-layer stainless-steel grid wire cloth. The wire mesh absorbs the heat energy and dissipates the pressure inside to less than 1bar, restricting the explosive energy away from the external hazardous environment.
This innovative technology means wall thicknesses is reduced to just 2mm, resulting in EXpressure Ex d cabinets 50% lighter than traditional solid 30mm cabinets.
The advanced design enables low lead times in cabinet production and fast project engineering of explosion-protected control panels and distribution boards. What traditionally was housed in a 2m-wide cabinet is now able to fit in a 1m-wide EXpressure cabinet.
The pressure venting technology enables the manufacturing of larger box volumes and removes the need for multiple small conventional cubicles. An option for double-winged doors additionally reduces installation and commissioning labour time by the removal of the centre door bar, increasing work area access and a 25% greater installation footprint.
Available from Control Logic, Stahl EXpressure enclosures and cabinets are ideal for use in dust and gas explosive atmospheres in industries such as oil and gas, food and beverage, water treatment, chemicals and agriculture.
Control Logic
1800 557 705
www.controllogic.com.au